'I'm not blind!' - Brexit Secretary David Davis denies trying to kiss Diane Abbott
Brexit secretary denied kissing Labour MP as 'I am not blind' following Brexit vote.
Davis has been accused of sexism after the jibe, which he claims was a private joke.
Abbott backed Brexit bill after failing to attend previous vote on subject.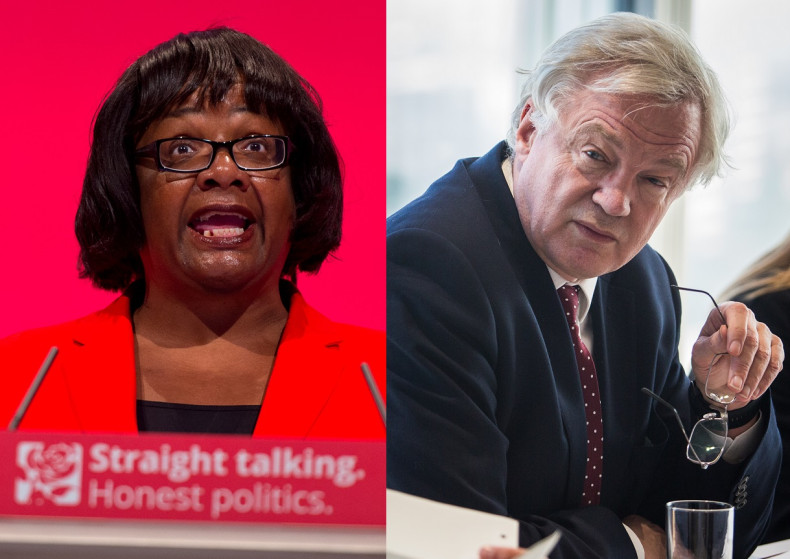 David Davis has denied kissing Labour MP Dianne Abbott following last week's Brexit vote as he is "not blind".
The pair reportedly exchanged barbs after MPs voted to trigger Article 50 of the Lisbon Treaty giving prime minister Theresa May permission to start negotiations.
After the result, Davis is said to have leaned in to embrace the shadow home secretary at a Commons bar only for the Hackney MP to tell the Conservative to "f*** off".
Abbott, who voted remain, did not vote on the Brexit bill last week, claiming she had a migraine.
The row did not end there, after The Mail on Sunday published a series of text messages between Davis and a friend making what appeared to be disparaging remarks about Abbott.
A spokesman for the Brexit Secretary has insisted that Davis was joking in the texts, adding: "This was a self-evidently jocular and private exchange with a friend. The secretary of state is very sorry for any offence caused to Miss Abbott, someone he has known and respected for many years."
One MP who was not satisfied with Davis's defence was Labour's Jess Phillips, who compared the Tory's behaviour to misogynistic and sexist attitude from the 1950s,
"After saying it was a myth he tried to kiss her, David Davis has gone on to look an even bigger, more paternalistic, patriarchal sexist. He's made it worse. The minister should promise he will never behave like that again," Phillips said. Speaking on Peston on Sunday, Labour peer Baroness Chakrabarti said Davis was "very silly, sexist and patronising".
David Davis's Brexit texts
Davis's politician friend: "Cannot believe you made an attempt to give DA [Diane Abbott] a hug!"
Davis: "Didn't, but the myth grows… I whispered in her ear "Thanks for your vote" hence the "F off". I am not blind."
Friend: "Ha! Ha! Thank god you aren't blind. Great week for you and Brexit!"
Davis: "Actually it would make a good Optical Express advert… Yes, a reasonable success."