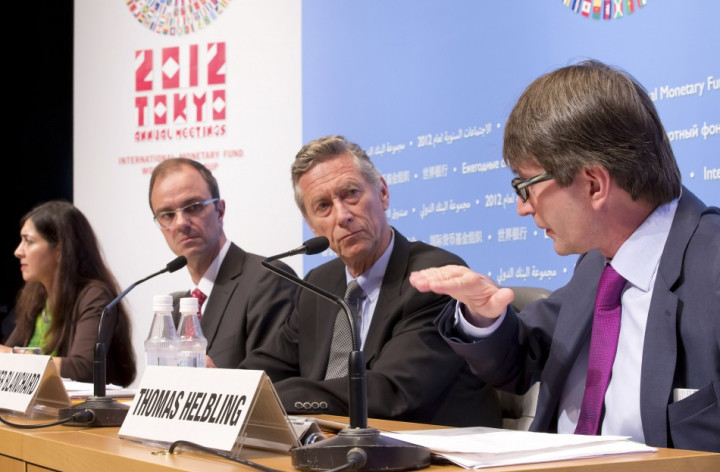 The International Monetary Fund (IMF) has scaled down its growth forecast for the British economy to a contraction of 0.4 percent in 2012 from its July prediction of a 0.2 percent growth.
The IMF expects the British economy to grow by 1.1 percent, down from the previous forecast of 1.4 percent for 2013.
The global financial watchdog is of the opinion that though most of the advanced economies in Europe avoided spillovers from the eurozone crisis by taking advantage of improving global demand and strengthening of the euro core area, the case with the United Kingdom is different.
"Growth in the United Kingdom, where the financial sector was hit hard by the global crisis, will be weak in early 2012, before recovering there as well," says the IMF in its World Economic Outlook, a report card on global growth.
While noting that the fiscal tightening plans of the government have not brought desired results in the economic rebound of the country, the IMF suggests the Bank of England (BoE) further eases its monetary policy.
According to the IMF, inflation in the UK is expected to fall below 2 percent target due to weaker growth and commodity prices.
"Indicators of activity and unemployment show increasing and broad-based economic sluggishness in the first half of 2012, and no significant improvement in the third quarter."
"In line with other recent forecasts, the IMF are today showing a downward revision to growth prospects across both advanced and emerging economies, which is why they repeat their advice that the first line of defence against this should be to allow the automatic stabilisers to operate, monetary policy easing and measures to ease the flow of credit - all of which the UK is doing," a spokesman for the UK Treasury told the Financial Times.
The IMF also revised its global growth outlook for 2013 to 3.6 percent from the previous forecast of 3.9 percent. For 2012, the Fund expects the global economy to grow by just 3.3 percent from the earlier forecast of 3.5 percent.
"Causes of disappointing growth include weak financial institutions and inadequate policies in key advanced economies," says the report.
Pointing out that the euro area crisis has intensified, the report highlights the role of the eurozone's European Central Bank's (ECB) Outright Monetary Transactions (OMT) in easing the fears of global markets.
However, the Fund says the indicators of weakness continue to linger suggesting its spread to the eurozone's core area including Germany.