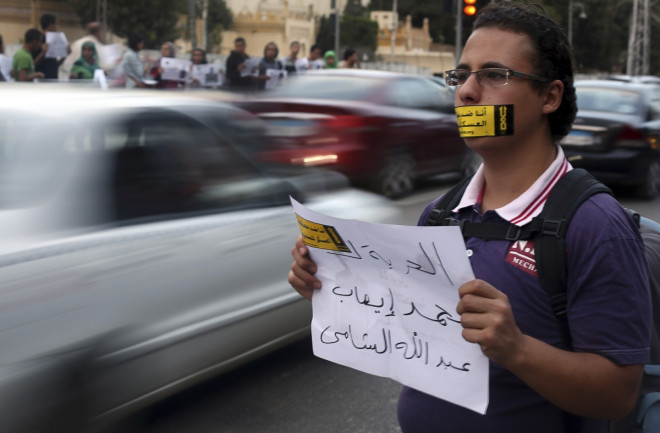 The condition of Al Jazeera journalist Abdullah Elshamy, who has been on hunger strike in an Egyptian prison for 112 days, has worsened at the point that he could die within a few days, according to doctors.
Medical tests on Elshamy, who has been imprisoned for 269 days along with other three Al Jazeera journalists, showed that he is suffering from acute anaemia, shrinking red blood cells and kidney dysfunction.
Doctor Mohamed Ussama Al Homsi told Al Jazeera that the journalist's condition was life-threatening, having lost a third of his body weight. He warned that Elshamy could "die within a few days".
The journalist was later moved from his Tora prison cell to an undisclosed location. His lawyer had asked Egyptian authorities to transfer him to hospital within 48 hours.
In a letter from prison, Elshamy narrated his ordeal at the hands of prison guards to force him to start eating.
Elshamy was arrested on 14 August while covering the violent crackdown at Cairo's Rabaa Al-Adaweya Mosque but he has never been charged.
Three English journalists of the Qatari-funded broadcaster - Peter Greste, Mohammed Fahmy and Baher Mohammed - have been imprisoned in Tora prison for 133 days.
Al Jazeera journalists stand accused of spreading false news and aligning with the Muslim Brotherhood, a group that the current Egyptian government considers to be a "terrorist" organisation.
The trial of Greste, Fahmy and Mohammed has been adjourned until May 15.
Al Jazeera strongly denies the accusations made against its staff.