India celebrated its 70th Independence Day on Monday 15 August amid violent protests in Indian-administered Kashmir. Prime Minister Narendra Modi took aim at supporters of 'terrorism' in his Independence Day speech, ratcheting up criticism of Pakistan while avoiding direct mention of the Kashmiri unrest.
Modi delivered the annual address from the steps of the 17th-century Red Fort in Old Delhi. Sporting a red, pink and yellow turban, he indulged in some wordplay, saying India was moving from "swaraj", or self rule in Hindi, to "suraj", or good governance. "One society, one dream, one resolution, one destiny – we proceed in this direction," he said.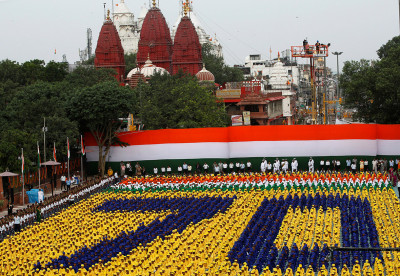 As Modi spoke, gunmen attacked a police station in Kashmir's summer capital, Srinagar, killing an officer and wounding 10 police and paramilitary troops. Two militants were killed in the ensuing shootout, police said. The army also said it had foiled an infiltration attempt from Pakistan into North Kashmir, killing three militants.
Kashmir has witnessed violent protests since 8 July, when security forces eliminated a commander of Pakistan-based Islamic militant group Hizbul Mujahideen. Since then. At least 50 people have been killed and thousands hurt in clashes with the security forces.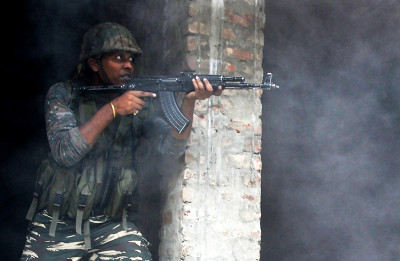 Kashmir is divided between India and Pakistan but claimed in its entirety by both. India accuses Pakistan of arming and training Kashmiri rebels who have been fighting for independence or for a merger with Pakistan since 1989. Pakistan denies the charge, saying it provides only moral and political support.