One soldier of the Central Reserve Police Force (CRPF) died on Monday, 15 August, when terrorists opened fire at a CRPF camp in Srinagar – the summer capital of northern Indian state of Jammu and Kashmir. The attack site was just seven kilometers away from where the chief minister was delivering her Independence Day speech to the citizens of the violence-hit state.
Two of the three terrorists who launched the attack were gunned down by the CRPF soldiers. At least nine soldiers were injured in the gun battle, one of whom is said to be in critical condition, local media reports said. Security forces have reportedly cordoned off the area, which was already under curfew since violent outbreak across Kashmir in early July.
Facing flak from the people as well as rival political parties for the rising violence and unrest in the state, chief minister Mehbooba Mufti on Monday asserted that guns cannot get justice to the people. She blamed the central leadership for the current situation in the valley and urged people to denounce violence.
"Kashmiris do not wield guns, we do not resort to violence. The situation in Jammu and Kashmir today is because of problems in the nation's leadership. The mistakes have been made by all the political parties and leadership of the nation - starting from Jawaharlal Nehru," she said after hoisting the national flag in the state capital.
She further said: "If we can't find our solution in the world's biggest democracy, we won't find it anywhere else. The fault is not with the people of Jammu and Kashmir nor is it with India... the problem has been with the leadership of the state over the years.
"Who is responsible for this? What can I do when despite having IIMs, IITs, students who have to study have gone blind," she was quoted as saying by The Times of India.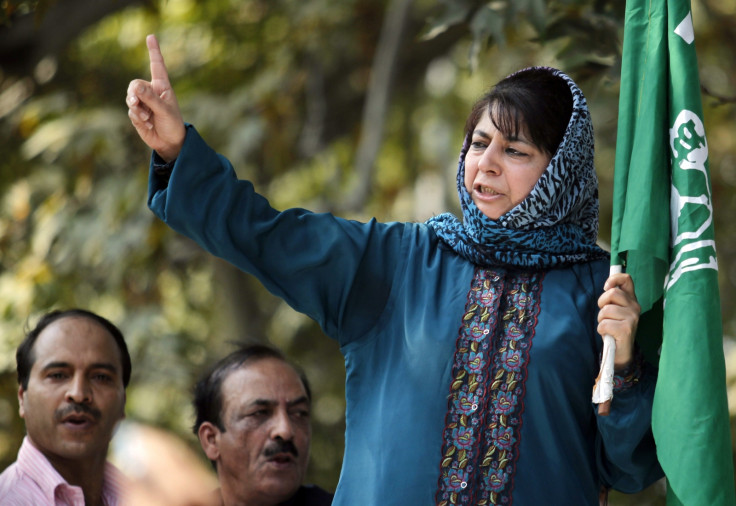 In light of the use of pellet guns by Indian security forces to counter protestors who were demonstrating against the killing of separatist leader Burhan Wani, the chief minister said: "Encounters have taken place in the past and will continue to take place. But I don't understand what my government's fault was? (But ) I promise that action will be taken against police and security forces who went against my directions."
Earlier in his speech to the nation, Indian Prime Minister blamed neighbour Pakistan, although without naming the country, for the violence and chaos in the Kashmir valley. Both India and Pakistan have continued their verbal duel over the Kashmir issue, while the Valley remained under curfew for over a month now.