England are on the brink of levelling the Test series in India, after taking complete control of the second Test. The hosts finished the third day on a poor 117/7, after captain Alastair Cook and Kevin Pietersen combined to post 413 for England's first innings. Earlier, the Indians scrambled a first innings total of 327, on the back of another excellent innings from Cheteshwar Pujara.
As things stand, India lead by 31 runs but have only three wickets in hand and England have all of two days to claim those batsmen and knock off what must surely be a minimum target, to claim a famous win.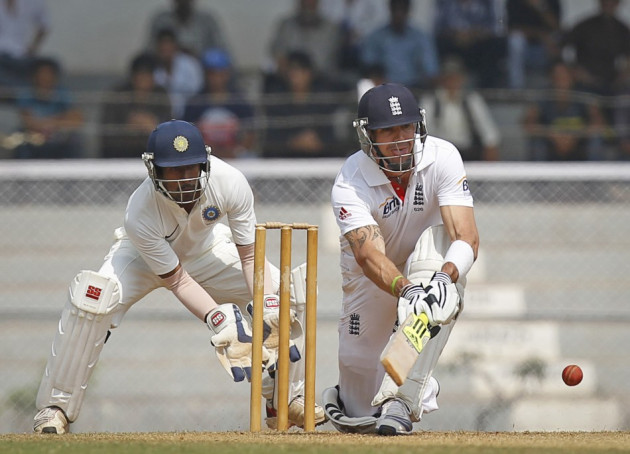 Cook and Pietersen resumed batting at the start of the day with the same composure and purpose they displayed on the second day. The captain continues to have an absolutely outstanding series with the bat, cantering to a second successive century before lunch. The recalled Pietersen, whose innings must surely dismiss any lingering doubts over his commitment to the national team, made his century as well, reaching 100 off just 127 balls.
The two put on 206 for the third wicket. The stand was finally broken by Ravichandran Ashwin, who managed to keep a ball low and nick an outside edge from Cook (122). The catch was a simple one and gratefully taken by Indian captain MS Dhoni.
Cook's dismissal brought Jonny Bairstow to the crease but he did not last long and fell cheaply (9) to Pragyan Ojha. However, those wickets were to be the only bright spots in an otherwise painful session for India, with England claiming 120 runs in the opening session. The damage was being dealt by Pietersen, who reached 150 in truly majestic style, slog-sweeping Ojha for six. The right-hander was finally dismissed (189) after a thin edge found its way to Dhoni... but by that time the match had swung emphatically in England's way.
The middle order failed, perhaps, to capitalise on the opportunity but Matt Prior (21) and Samit Patel (26) did enough, with Stuart Broad (6), James Anderson (2) and Monty Panesar (4), to probably put this match beyond the Indians. Ojha ended the innings with another five-wicket haul (5/143), while Ashwin and Harbhajan Singh picked up two wickets each, to emphasise the spinner-friendly nature of the track.
The Indian innings got off to a reasonable start, with openers Gautam Gambhir and Virender Sehwag putting 30 on the board. Unfortunately, the dismissal of Sehwag (9) - caught by Graeme Swann of Panesar's bowling - triggered an epic collapse. The biggest blow was the dismissal of Pujara (8) and tragically, veteran batsmen like Sachin Tendulkar (8), Yuvraj Singh (8), Dhoni (6), all of whom fell to either Swann or Panesar.
At close, Gambhir (53 not out) remains India's sole hope of a meaningful target to bowl at and he has Singh (1 not out) for company. Swann claimed 2/39 from 13 overs but Panesar was the star, with 5/61 from 16.