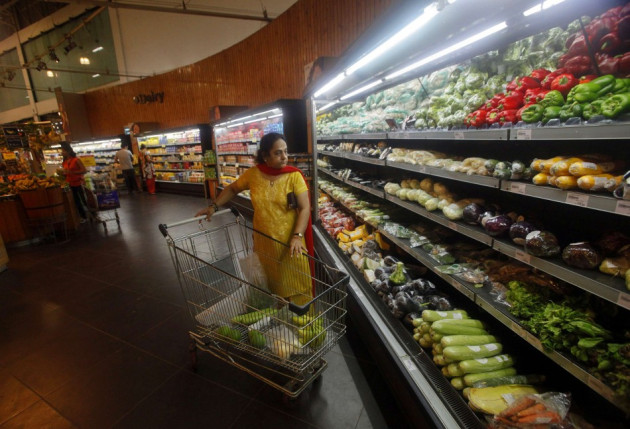 The Indian government has announced a slew of economic reforms including foreign direct investment (FDI) in retail, aviation and broadcasting sectors in a bid to revive its sluggish economy.
The decision comes after months of political logjam in the country, stalling the initiation and implementation of policy changes and raising concerns of a credit rating downgrade.
The government had cleared retail FDI in the previous year, but was forced to suspend its decision following strong resistance from allies and opposition parties.
Foreign retailers can now own up to 51 percent stake in multi-brand retail businesses in the country while foreign airlines can hold up to 49 percent stake in their Indian counterparts. The FDI limit in the broadcast sector has been raised to 74 percent.
"I believe that these steps will help strengthen our growth process and generate employment in these difficult times," said Prime Minister Manmohan Singh.
India's business leaders and economists have welcomed the decision.
"The series of policy decisions announced by the government today signal that India is on the move," said Sunil Bharti Mittal, chief executive of conglomerate Bharti Enterprises.
"More importantly, they will boost sentiment within the domestic industry and provide much needed momentum to the economy," he added.
Samiran Chakraborty, Regional Economist, Standard Chartered Bank, Mumbai, told Reuters: "These measures were pending for a long time and the government has now shown political courage to push things through." He added that the move would encourage businesses and improve consumer sentiment.
Allowing more FDI in the retail sector will permit international companies such as Tesco, Walmart and Carrefour to open their stores in the country with its growing market of 1.2 billion people.
A statement from Tesco published by the BBC said: "Tesco welcomes this positive development but we await further detail on the conditions... we are hopeful that [it] will allow more Indian consumers, businesses and communities to benefit from world-class retail investment."
Walmart told BBC that investments following the reform could "lower the price of products, improve the livelihoods of farmers and ease supply-side inflation".
"Through these, and several other initiatives, we hope to make a positive impact on the lives of the people of India."
A number of riders have been set for companies planning to enter the country. These include a minimum investment of $100m (£67m), mandatory sourcing of 30 percent products from India and restrictions on the locations to open the business.
Also, fears of another suspension of the decisions after further political opposition remain.
Critics of retail FDI argue that the move could jeopardise the livelihoods of small shop owners in the country.
Mamata Banerjee, chief minister of West Bengal and a strong opponent of FDI in retail, is expected to confront the government over the issue in the coming week. Her party is in the Congress-led coalition that rules the country. Parties such as the main opposition BJP have also expressed their objection to the decision.