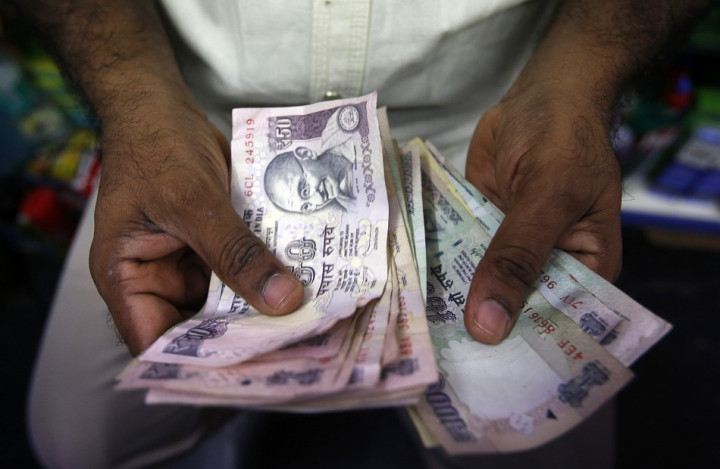 India's currency and stocks declined amid fears foreigners will reduce their investments in the country due to the ongoing debt-ceiling crisis in Washington.
Closing on 4 October at 61.43 per dollar, the rupee opened lower at 61.50 on 7 October. The currency is trading at 61.87 per dollar as at 8:00 GMT, down 0.73%.
The currency has previously suffered following fears about when the US will start paring back on its US bond-buyback programme.
India's rupee plunged to an all-time low of 68.80 against the US dollar in August. It has fallen 16% against the US dollar in the past 12 months, making it one of worst-performing major currencies in Asia.
Nevertheless, promises by newly-appointed Reserve Bank of India head, Raghuram Rajan, and a delay in the US stimulus tapering have strengthened the currency.
The Bombay Stock Exchange SENSEX index fell 190.91 points or 0.96% to 19,725.04, while the National Stock Exchange CNX Nifty Index declined 54.90 or 0.93% to 5,852.40.
The ongoing government shutdown in the world's largest economy is hurting the global markets, especially the emerging countries that largely depend on foreign fund inflows for growth.
"The world economy obviously is not in a position to withstand too much shock at this time when we are just recovering as a global economy," Philippine President Benigno Aquino said earlier at the Asia-Pacific Economic Cooperation summit in Bali.
US Political Deadlock
The US government partially shut down on 1 October after a midnight deadline to approve a budget for 2014 passed. Close to 800,000 government employees, including 400,000 in the defence department, were forced to take unpaid leave.
Both houses of the US Congress are still reluctant to reach an agreement to end the government shutdown as President Barack Obama warned that the country might default on its debt if the budget impasse is prolonged.
The world's largest economy will run out of cash to pay its bills on 17 October if the debt ceiling is not raised. The country's laws limits its borrowing to $16.7tn (£10.3tn, €12.3tn).
Obama had also cancelled a scheduled trip to Asia and talks over a free trade agreement between the US and the European Union (EU) came to a standstill because of the shutdown.
Obama has said that he will not negotiate with Republicans over the budget issues until they pass a temporary bill to reopen the government and agree to raise the $16.7 trillion US statutory borrowing limit.
Meanwhile, John Boehner, speaker at the Republican-led House of Representatives, said lawmakers will not agree to raise the threshold without considering other provisions.