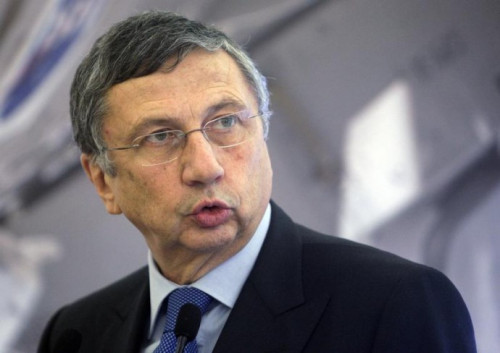 India has cancelled a contract worth about half a billion pounds awarded to helicopter maker AgustaWestland after allegations that the British firm had bribed officials to win the deal.
India's defence ministry terminated the deal worth £465m ($770, €559m) with immediate effect, saying the company had breached a "pre-contract integrity pact".
"Based on the opinion received earlier from the attorney-general of India, it has been the view of the government that integrity-related issues are not subject to arbitration," the ministry said in a statement.
The British company had sought arbitration to resolve the issue, accusing India of acting "unilaterally".
The order for 12 AW101 choppers was placed by India in 2010 for travel purposes of senior officials such as the prime minister and other high-profile politicians. The company has so far delivered three helicopters and the remaining nine will not be taken by the country as the deal was terminated.
Out of the nine helicopters remaining, three have been completed but not yet delivered and the remaining six are close to completion at the company's factory in Somerset.
Bribery
The termination of the contract comes as Giuseppe Orsi, former head of AgustaWestland's Italian parent firm, Finmeccanica, is undergoing trial in Italy on fraud and corruption charges. Orsi, who was the chief of AgustaWestland at the time the India deal was signed, was accused of paying bribes to secure the Indian contract.
The Indian government has been threatening to cancel the deal ever since the allegations of bribery came up in February. The government led by the Congress Party has faced a number of bribery allegations against its ministries, and is looking to build up a clean image before the upcoming general elections.
AgustaWestland denied paying bribes to win the contract, but India's defence minister A K Antony said he does not believe the denial.
India's Central Bureau of Investigation is separately probing the case, and had filed suits against retired Air Chief Marshal S P Tyagi and 14 others in March.
Both AgustaWestland and Finmeccanica said they are cooperating with the investigations in India and Italy.
AgustaWestland's loss comes days after it secured a deal worth £1bn to supply 16 AW101 helicopters to Norway for search and rescue. It also includes an option for six further choppers.
Prime Minister David Cameron hailed the contract as "a hugely significant order" that was "testament to the first-class engineering skills we have right across the UK".