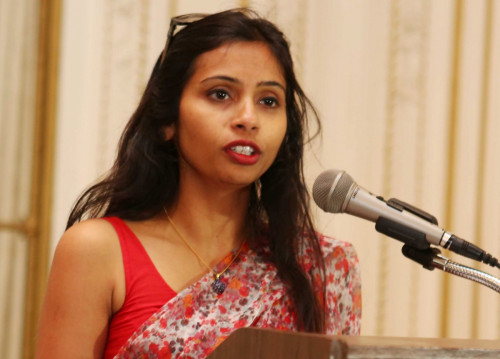 India is tightening the screws on US diplomats in the country as part of its reprisals against Washington over the ongoing diplomatic spat triggered by the arrest of its Deputy Consul General in New York, Devyani Khobragade.
The Indian federal government has asked the American diplomatic mission in New Delhi to shut down the commercial activities taking place in its premises.
The US embassy has been told to stop all the activities in the recreation club run by American Community Support Association (ACSA), comprising a pool, restaurant, bowling alley and a tennis court. Alongside the diplomats, outsiders have also been allowed inside the clubs as yet – a violation of the Vienna Convention – which Delhi said will not be tolerated henceforth.
According to the Article 41(3) of the Vienna Convention on Diplomatic Relations 1961,"The premises of the mission must not be used in any manner incompatible with the functions of the mission as laid down in the present convention or by other rules of general international law or by any special agreements in force between the sending and the receiving State."
In addition to that, Delhi has also made it clear diplomats' vehicles will also be dealt with as per local traffic regulations.
The American diplomatic post has not yet commented on the latest retaliatory measures.
The diplomatic storm between Delhi and Washington was stoked by the arrest of senior Indian diplomat Khobragade in public followed by a strip search, a move dubbed by Indian officials as "humiliating and barbaric". She was apprehended on charges of committing fraud in the US visa application for her maid Sangeeta Richard.
Following her arrest in New York, Delhi had scaled down the privileges of US diplomats, stripping off their special ID cards and removing barricades outside the US embassy in the Indian capital.
Earlier, Indian officials had also refused to hold talks with senior US delegation over the issue.
India has demanded the US to drop the charges against Khobragade and asked for an apology.
In a separate development, Khobragade's lawyers sought an extension for her indictment, which is on 13 January. However, the request has been opposed by the prosecution.