An army base in Indian-administered Kashmir has come under attack, killing at least one soldier and wounding three others. This is the second major attack on an army position within two weeks in the volatile border region between India and Pakistan.
At least four militants stormed the army camps erected by the Border Security Force (BSF) in Baramulla on Sunday (2 October) at about 10.30pm local time [6pm BST]. The camp, mostly used to launch counter-terror operations by the Indian forces, is located about 54km from Srinagar, the capital of India's Jammu and Kashmir state.
Two assailants have been shot dead by the Indian forces. Security has been heightened in the area and a combing operation is on to flush out any remaining militants. Unconfirmed reports suggest there were six or seven attackers.
Concerns have also been raised over local Islamist groups such as Jaish-e-Mohammad and Lashkar-e-Taiba, which are active in the region, activating sleeper cells in the areas. Only on Sunday, the Indian Coast Guard seized a Pakistani boat and its crew.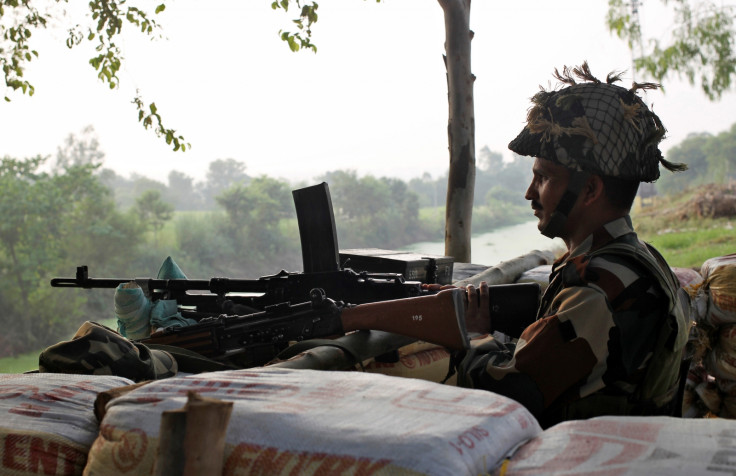 The Indian army said the situation was brought under control after a two-hour intense gun-and-grenade battle. Locals have reported hearing loud explosions.
"Terrorists opened fire on an army camp in Baramulla town. An exchange of fire between soldiers and attackers is still on," Colonel Rajesh Kalia told AFP. While the attack on Baramulla army base was on-going, there were also reports of fire exchanges between Indian and Pakistani forces in Gurdaspur in the Indian state of Punjab.
The latest attack comes within days of the Indian forces saying they had mounted "surgical strikes" in Pakistani-administered Kashmir, wrecking key extremist positions. While Pakistan fiercely contested this version of events, tensions between the two nuclear-armed rivals have sharply escalated in recent weeks.
This is also the second such attack on an army installation in Kashmir in two weeks. On 18 September four suicide-attackers managed to sneak into the Uri army base in India. The attack had claimed the lives of 19 Indian soldiers prompting a strong response from New Delhi.