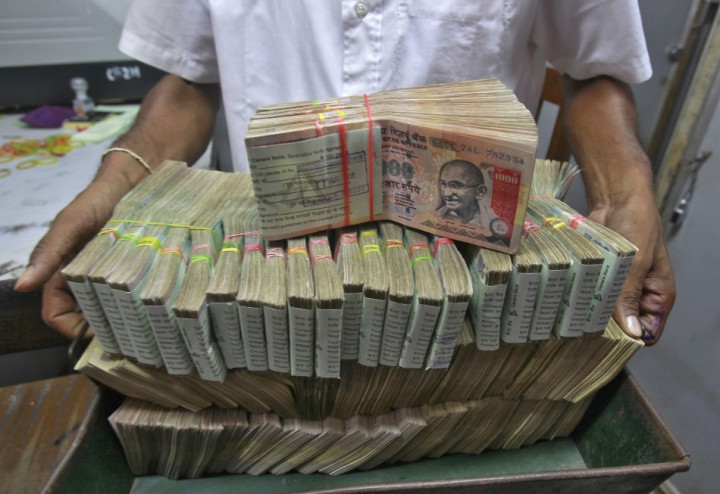 Indian rupee fell to fresh multi-week lows against the US dollar, pound, euro and yen on 17 June as geopolitical issues that keep the upward pressure on oil prices continued to weigh on the local market sentiment.
Petroleum products account for more than 70% of India's import bills, and higher oil prices significantly affect the fiscal health of the economy and add to inflation.
A broad dollar rally helped by global risk aversion also added to the Indian unit's weakness.
Meanwhile, the Reserve Bank of India (RBI) continued to sell dollars, helping keep the USD/INR level below 60.50, traders said.
USD/INR rose to as high as 60.44, its highest since 29 April, before easing to 60.17 at 07:55 GMT.
GBP/INR rallied to 102.53, its highest since 25 April, while JPY/INR strengthened to 0.5928, last seen on April 28. EUR/INR rose to as high as 81.99 on Tuesday, its highest since 13 May.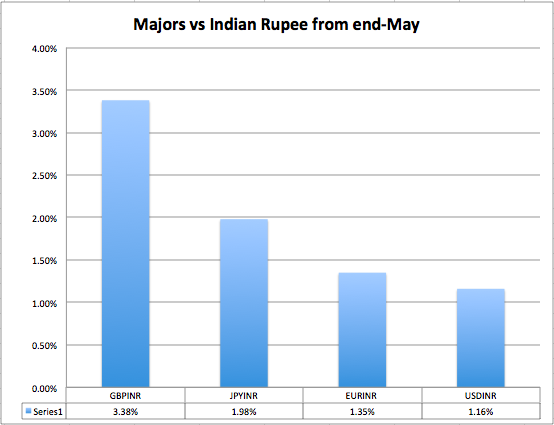 "Global situations affecting oil prices have mainly weakened the rupee over the last few days. Inflationary scenario of India is also not supportive," K Chandrangathen, head of forex trading at South Indian Bank, told IBTimes UK.
"But people now have more faith in the RBI, that it will not allow rupee to weaken or strengthen sharply," the Mumbai-based trader added.
The RBI seems to be targeting a forex balance of $400bn in its savings, but as it is much lower as of now, the central bank will be keen to collect back the dollars it sells now when the rupee strengthens later, traders said.
They expect USD/INR to hold a range of 58-61 at least until the new federal government presents the budget.
USD/INR rallied more than 1% from end-May while euro and yen strengthened 1.3% and nearly 2% respectively. GBP/INR outperformed all, by rallying more than 3.3% so far in June.
"Overall strength of Sterling is leading to rupee's steeper fall against that currency," said Chandrangathen.
TECHNICAL ANALYSIS
On a daily chart, GBP/INR has broken above the upside of a downward channel and is now eyeing 102.84 ahead of 104.17 and 105.15.
On the downside, the pair will target 100.13, the 38.2% retracement of the 10 June to 29 August 2013 uptrend, ahead of 98.75 and 98.00 which is the 50% retracement. GBP/INR has a very strong support near 97.00, a break of which will end a broad sideways track since October last year.

USD/INR has first resistance at 61.18, a break of which will open doors to the stronger 63.27-63.95 area. Once that is broken, there will not be any major stops until the August last year peak of 69.19.
The first support for USD/INR is 58.22, last month's low, and then comes 56.60, the 50% retracement of the July 2011 to August 2013 uptrend. What comes next is 53.65 and then the 49.40-48.60-region.