India Rupee, Stocks Rise on Diesel Deregulation, But Market Still Wary of Inflation Risks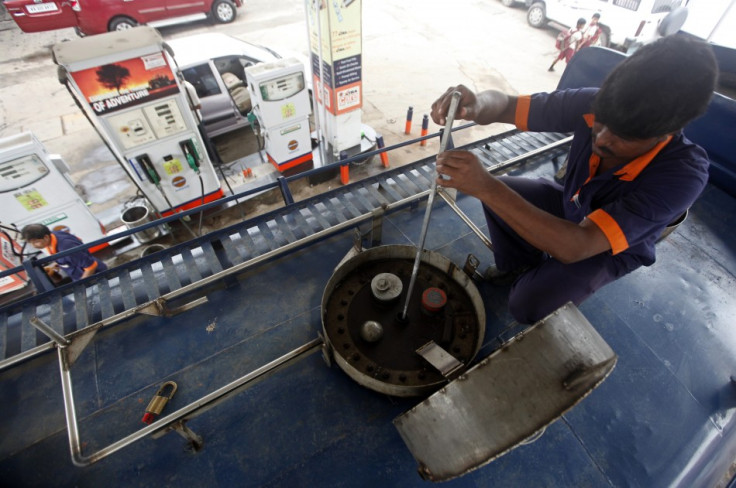 The fiscal-friendly side of the Government of India's decision to deregulate diesel prices has helped the rupee recover from near a multi-month low but what the government will do to address the inflation challenges will be crucial, traders say.
The immediate impact on the retail price of diesel after the deregulation was a decline, but that joy is not going to last as crude prices are poised for a rebound after the recent falls, they point out.
"The lesson from petrol deregulation was that the extent of decline in crude prices was not reflecting in the retail price of the fuel. So now with the crude more likely headed north, the net impact of diesel regulation will be inflationary," K Chandrangathen, head of forex trading at South Indian Bank, told IBTimes UK.
"Otherwise, the government has to take other measures to contain inflation."
Traders said the fiscal positives of the decision will stay, but whether the local refiners and retailers will sincerely respond to the rise or fall in international crude prices remains to be seen.
"They will hike prices on their own. But to reduce the prices, someone should force them," Chandrangathen said.
The major state-run retailers are Indian Oil Corporation, Bharat Petroleum Corporation and Hindustan Petroleum Corporation. With no regulation from the state side, there will be no under-recoveries on selling diesel at below-market price.
The main upstream companies are state-run Oil and Natural Gas Commission, Oil India and Gail. These companies have to compensate state-run retailers for selling diesel, LPG and kerosene at below-market prices.
Analysts said the fuel reforms showed the government's commitment to tough economic reforms. They will encourage more competition and investment in the oil and gas sector, which is a long-term positive.
The NSE 50 index added 130 points in the two days after the announcement, making a 1.6% rally, off a two-month low. The rupee has rallied nearly 0.93% from 61.84 at close on Friday, where it was near the two-month low of 61.96 touched on 1 October.
"The immediate rise in the stock indices was because the main companies reaping direct benefits from the new regime are heavyweights in the indices," said a senior treasury official at a state-run bank.
"To me it is still not certain whether the wider economy will be at gain after everything," he added.
© Copyright IBTimes 2023. All rights reserved.