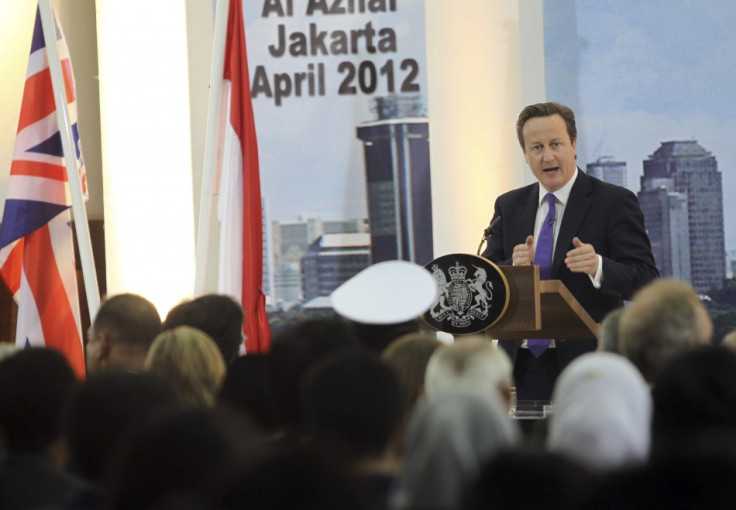 Prime Minister David Cameron praised Indonesia for demonstrating to the world the coexistence of religious practice and modern democracy and said that it can be a model to other Muslim nations.
Cameron was addressing the students at the Al Azhar University in Jakarta on Thursday.
While stressing the fact that extremism is not confined to Islam, Cameron said that the world's most populous Muslim nation was successful in overcoming the authoritarian rule and religious extremism. He also said that Indonesia's respect for minority religious groups and democracy is an example for other Muslim nations.
"The people of Indonesia can show through democracy there is an alternative to dictatorship and extremism. That here in the country with the biggest Muslim population on the planet, religion and democracy need not be in conflict," Cameron told the students at Al Azhar University in Jakarta.
"Let me be absolutely clear: I am not talking about Islam. Islam is a religion observed peacefully and devoutly by over a billion people. And let me also be clear: extremism is not only found among Muslims. But there is a problem across the globe with Islamist extremism which is a political ideology supported by a minority," he continued.
Though Indonesia is considered as secular country, religious extremism and Islamic militancy are on the rise in recent times. In 2002, the Bali bombings had killed over 200 people which were carried out by the Southeast Asian militant group Jemaah Islamiah.
Indonesia's democracy is an example o f those nations caught in Arab spring, Cameron said while referring to the nations still reeling under the clamour for reforms.
Cameron hoped for a change in Egypt's Muslim Brotherhood's conservative view on Islam and appealed to them to look for ways to strengthen democracy in that nation.
"In Egypt, it is vitally important to ensure that the democratic success of the Muslim Brotherhood's party strengthens democracy and does not in the end undermine it. The choice of the Egyptian people must be respected and we must all be ready to work with the government that the Egyptian people elect."
Cameron met the Indonesian President Susilo Bambang Yudhoyono in Jakarta on Wednesday. He was on a diplomatic and trade mission in South East Asia, which began in Japan on Monday. His next destinations include Malaysia, Singapore and Burma.