Indonesian gay couple caned 85 times each in front of huge jeering crowd in Aceh
This is the first time that a gay couple has been sentenced to public caning in the region.
Two men in Indonesia's Aceh province were caned in front of a huge crowd as punishment for a homosexual relationship. The couple received 85 lashes each on Tuesday (23 May) after a Shariah court last week found them guilty of breaking religious law.
The men – aged 20 and 23 – were arrested in late March by neighbourhood vigilantes in the provincial capital of Banda Aceh. The identities of the pair have not been revealed.
The couple, dressed in white gowns, stood on a stage set up outside a mosque in front of thousands of jeering people. They bowed their heads as they were whipped by a team of hooded men in dark robes and masks with eye slits.
The pair was beaten with thin rattan canes 85 times, reports suggest.
One of the men watching the act reportedly cried: "Let this be a lesson to you," while another man yelled: "Do it harder," according to the BBC.
It is believed to be the first time gay men have been caned in the province under Sharia law.
The conservative Aceh province is reported to be the only part of the Muslim-majority that implements and practices the strict Islamic law for more than a decade. However, it is reported to have become increasingly conservative in the recent times after strict laws against homosexuality came into effect two years ago.
"Lessons carried out with our sharia law are conducted in a very thoughtful way, are educational and do not violate human rights," Abdul Gani Isa, a member of the Acehnese clercs' council told the crowd.
A mobile video footage of the raid during which the men were caught having sex was widely shared online. It showed vigilants kicking, slapping and insulting the men.
"I just want the caning to be over and to go back to my family, I have been deeply depressed. I am trying to pull myself out of a deep black hole," one of the men was quoted as saying by the BBC.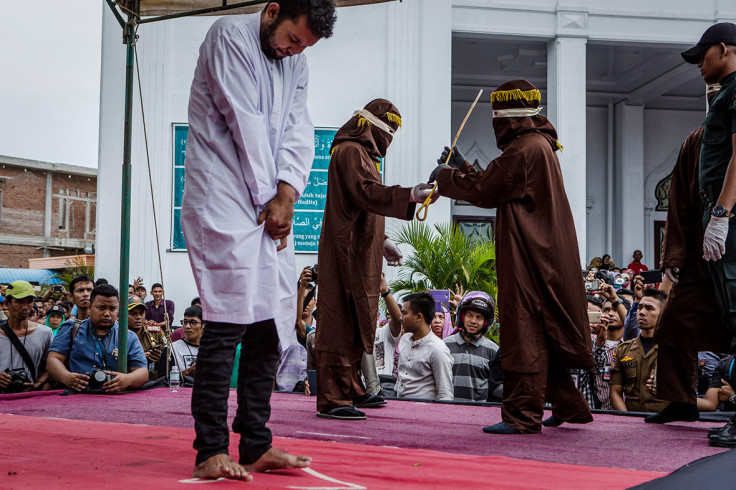 A three-judge panel had earlier decided to give 100 lashes each to the men, but that was brought down to 85.
International human rights groups have condemned the ruling and the use of caning. Amnesty International has called it "an act of utmost cruelty".
"These two men had their privacy forcefully invaded when they were ambushed inside their own home, and their 'punishment' today was designed to humiliate as well as physically injure them," said Josef Benedict, the group's deputy director for Southeast Asia and the Pacific.
He called the Aceh province to immediately abandon the practice, "which constitute cruel, inhuman and degrading treatment and may amount to torture".
Caning is one of the most brutal punishments under Shariah law, which is also given to those who drink alcohol, and skip Friday prayers. Women who wear tight clothes can also be subjected to caning. Over 300 people were reportedly caned for such offenses in 2016.
© Copyright IBTimes 2023. All rights reserved.