Thousands of children who work in Indonesia's tobacco fields run the risk of acute nicotine poisoning, besides the danger of handling toxic pesticides, a Human Rights Watch (HRW) report has said. The work leaves lasting consequences on their health and development and their childhood is associated with mood disorders and problems with memory, attention, impulse control, and cognition later in life.
The poisoning occurs when workers absorb nicotine through their skin while having contact with tobacco plants.
A 13-year-old girl Siti Maryam, from the east Java city of Probolinggo, told Reuters news agency, "I feel dizzy, get headaches and feel like vomiting," after harvesting tobacco leaves with her bare hands. Her symptoms match with a condition that experts call "green tobacco sickness."
Although the law forbids minors from working under hazardous conditions anywhere in the world, children in Indonesia, some as young as eight, continue to work in tobacco farms. Indonesian child labour laws, generally in line with international standards, do not permit anyone under 18 to work in a place that might leave them exposed to harmful conditions, with those under-15 banned from working at all.
The Southeast Asian country has more than 500,000 tobacco fields, selling to both domestic and international markets, and is ranked as the fifth largest tobacco producer in the world. It made about $16bn (£11bn) selling cigarettes in 2015, which is an increase of 13% from 2014, according to a market research firm Euromonitor International.
It supplies to some major companies like British American Tobacco, China National Tobacco, Philip Morris International and Reynolds American. Almost 90% of the tobacco produced from Indonesia is sourced from three provinces – Central Java, East Java and West Nusa Tenggara.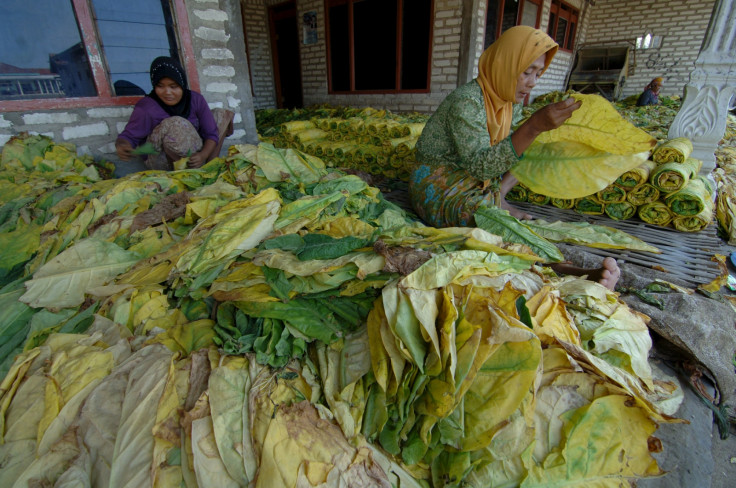 The HRW interviewed about 130 such children working under extremely hot weather conditions in various farms across the country, and found them exposed to severe dangers. Their hands had turned black with sticky residue as a result of cultivating and harvesting tobacco leaves.
Ayu – as the HRW report names her - is a 13-year-old girl from a village near the mountains of west Java who is among the thousands of children working in tobacco fields.
"Since I was a kid, I've been going to the fields," she said. "My parents plant tobacco. Mostly I help my parents and sometimes my neighbours," Ayu told the group.
"I was throwing up when I was so tired from harvesting and carrying the [harvested tobacco] leaf. My stomach is like, I can't explain, it's stinky in my mouth. I threw up so many times... My dad carried me home. It happened when we were harvesting. It was so hot, and I was so tired... The smell is not good when we're harvesting. I'm always throwing up every time I'm harvesting."
- Ayu told the Human Rights Watch
One among five siblings, Ayu is in her first year of junior high school, and mostly helps on the farm outside of school hours. But she has also confessed that she had to miss school sometimes to work in the farm with her parents during harvest season.
She had complained of vomiting every year while harvesting tobacco and has consistent symptoms of nausea as a result of an occupational illness that is specific to tobacco farming.
Ayu also helps her father mix the toxic pesticides that he applies to the tobacco. "...The smell is so strong. It makes my stomach sick."
Although some parents and children, who the group had interviewed, were either trained on safety measures or at least knew the health risks of their work, the study has concluded that inadequate regulations and poor enforcement of the law, particularly in the small-scale farming sector, are leaving children at greater risk.
The report said that many big companies do not have proper procedures in place to ensure that the tobacco they purchase do not involve child labour. "As a result, these companies risk contributing to the use of, and benefiting from, hazardous child labour," the group said.
Philip Morris has welcomed the report, and its sustainability officer Miguel Coleta has said the cooperation of stakeholders is required, including that of the Indonesian government to bring changes to the situation of workers in tobacco farms, Reuters reported.
"We are talking about a massive market, millions of people. It's not something easy to reform overnight," Coleta added.
The HRW group has called for the Indonesian government to update its list of hazardous occupations for children and to explicitly prohibit any work that involves direct contact with tobacco in any form.