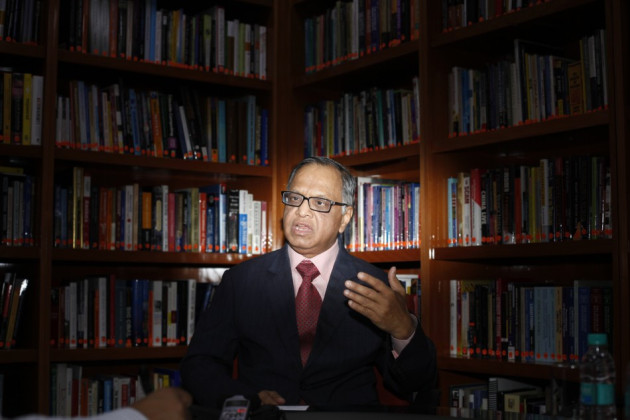 Infosys, India's second-largest software services exporter, has announced that it has appointed former chairman N R Narayana Murthy as executive chairman of the board to boost the company's efforts to regain lost ground in India's $108bn (€832m / £711m) information technology (IT) industry and in the global IT services market.
Founded by Murthy and six other middle-class engineers in 1981, Infosys was India's IT bellwether up until mid-2011, when news emerged that rival Tata Consultancy Services (TCS) had beaten the Bangalore-based firm in both volume growth and employee retention.
Murthy replaces K V Kamath, the current chairman of the board, who would take on the role of lead independent director with immediate effect, a 1 June Infosys statement said.
"The board has taken this step keeping in mind the challenges that the technology industry and the company faces and in the interest of all stakeholders, particularly shareholders large and small, who have asked for strengthening of the executive leadership during this challenging time.
"Murthy's entrepreneurial and leadership record and the long experience he has had as a technology pioneer makes him eminently qualified to lead the company and provide strategic direction at this point in time," Kamath was quoted as saying in the statement. Infosys will seek shareholder-approval to appoint Murthy as executive chairman and whole-time director for a period of five years beginning 1 June, 2013.
Murthy has roped in his son Rohan Murthy as his executive assistant for the five-year period. Rohan Murthy is a computer engineer and a Harvard University fellow.
S D Shibulal would continue to serve as managing director and CEO, while S Gopalakrishnan would be re-designated executive vice chairman and would primarily focus on key client relationships and broader industry issues, Infosys said.
Murthy, 66, was at the helm of affairs till about seven years ago, when he stepped down from all executive roles. He termed his appointment as "most unusual".
"This calling was sudden, unexpected, and most unusual. But, then, Infosys is my middle child. Therefore, I have put aside my plans-in-progress and accepted this responsibility....I intend to do my best to add value to the company in this challenging situation," Murthy was quoted as saying in the statement.
Infosys has been struggling to grow over the last two years. The company's big clients in the US and in Europe have been cutting costs, hurting its earnings, while rivals such as TCS and HCL Technologies have eaten into its market share.
Infosys shares closed 2.8% higher on 31 May on the Bombay Stock Exchange (BSE). The stock has risen 3.84% this calendar year, while the S&P BSE Infotech index has gained 6.7% so far. Infosys has a market cap of $1.38 tn.