The long waited photo-taking and sharing app, Instagram, is now available for Android smartphones. The app was launched on 3 April and is available for free download from the Google Play store. The launch has proven successful, with a Next Web report suggesting more than a million downloads in the first 24 hours. In fact, the company said 430,000 people had pre-registered before the launch. According to Kevin Systrom, the Chief Executive of the developers, who was quoted in a New York Times, blogpeople have been signing up at a rate of 2,000 a minute.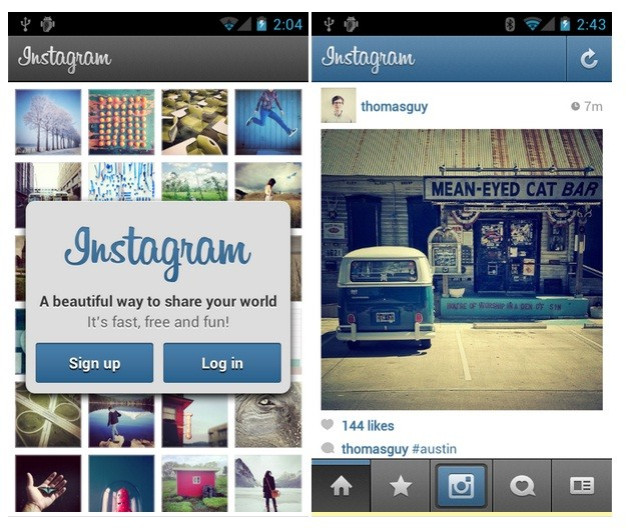 Instagram FAQs
How is the Android Instagram app different from the iOS app?
Instagram claims they have been meticulous in translating the Instagram experience to Android smartphones. Although there are some common features, the app has been slightly tweaked in order to fit the Android operating system. For one thing, the Instagram for Android uses a new camera icon in the camera view.
There are certain other features which will not be included in the first version of the Android app, such as Tilt Shift/Blur, Share from Feed, Lilve Preview and Share to Flicker. Moreover, in order to provide consistent experience between both platforms, there is no new feature that exists on the Android which does not in the iOS app.
Which Android phone support the app?
The Instagram app can be run on any Android camera-enabled smartphone which runs on OS 2.2 or above, with support for OpenGL ES 2. However, the Instagram for Android app cannot be run on tablets.
What is OpenGL ES 2?
OpenGL ES 2 is a special graphics processing language that exists on current devices. The developer use this language and the phone's GPU in order to make the filters fast and efficient. OpenGL ES 2 technology is required to implement the filters. Smartphones running older OS than 2.2 are without OpenGL ES 2 and therefore cannot run Instagram.
What countries and languages are supported?
Instagram for Android can be downloaded and translated into languages such as English, Chinese, French, German, Italian, Japanese, Korean, Portuguese and Spanish.
Will BlackBerry or Windows have Instagram anytime soon?
At present, there are no such plans. However, the company is trying to expand its platform presence.