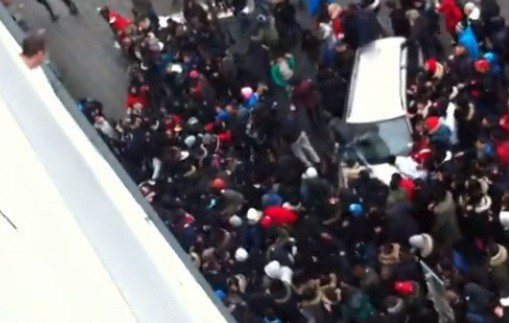 A Swedish high school descended into chaos after outraged students lashed out over sexual rumours circulating on Instagram.
Police were called to the Plusgymnasiet high school in Gothenburg after students barricaded the school in protest over the naming and shaming of boy and girls on the photo-sharing site.
Police said the scene had become "unruly and heated".
"Several bottles and rocks were thrown at police and some members of the public who passed by the area had their cars damaged," the police said.
According to local reports, the riot was triggered after an Instagram account encouraging people to upload images of "sluts" and "whores" received more than 200 submissions.
Many of the victims accused of participating in sexual activities were as young as 13 and 14.
Followers of the account grew rapidly and even after it was closed down the rumours appeared on Facebook.
"It grew to 7,000 to 8,000 followers. They were [pictures of] younger siblings of my friends, born around 1997 and later, that were uploaded," a 22-year-old Gothenburg resident told Aftonbladet.
Although the owner of the anonymous Instagram account has not been verified, a female student was threatened with violence after rumours claimed she was responsible.
"She is out of harm's way, that was the first thing we made sure of," Paula Hammargren, spokesperson for the school's owner Academedia, said.
Streets surrounding the school were sealed off by mounted police and Swat teams.
One witness said that some of the protesters were wearing masks.
"The protesters are kicking down lampposts and jumping on cars," he said. "They're going berserk."
Twenty-seven youths were arrested and another 15 young people were detained at the Nordstan mall for disturbing public order, police confirmed.
Instagram is a free photo-sharing program and social network that allows users to apply digital filters to their pictures and then share them with other Instagram users.
Instagram Can Sell Users' Photos Without Notice [VIDEO]