Recently, a flurry of Samsung and HTC devices has received mskip's universal toolkits that cater to the diverse demands of smartphone users. HTC Wildfire S is the latest to join the All-In-One (AIO) party with XDA Recognised Developer, hasoon2000's hallmark toolkit. His earlier contributions include similar toolkits for HTC One X, One S, myTouch 4G Slide, Amaze 4G, Rezound and Vivid.
It must be noted that the methods and features incorporated with this toolkit are quite identical to other toolkits released earlier. Here is the complete list of features available with the HTC Wildfire S AIO toolkit: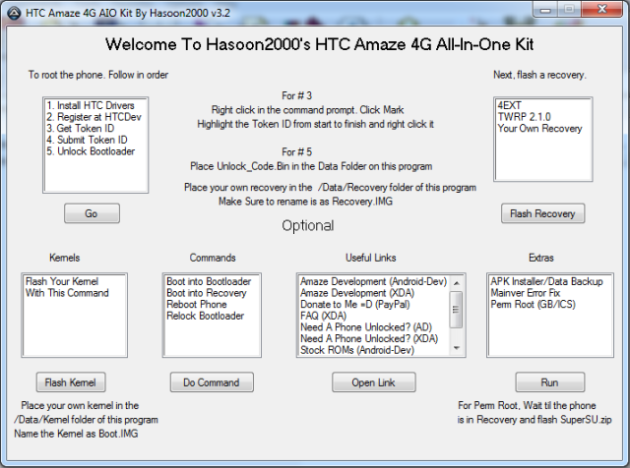 Install HTC Drivers
Get Token ID.
Unlock Bootloader (Must place Unlock_code.bin in the folder)
Install Recoveries
TWRP 2.2.1 GSM / CDMA - MAKE SURE TO CHOOSE THE CORRECT ONE!!!
User Provided Recovery
-Flash Kernels provided
User Provided Kernel
Link to the FAQ thread
Link to the Amaze Development thread
Boot Into Recovery
Boot into Bootloader
Relock Bootloader (must be in fastboot)
APK Batch Installer (Credits to hamsteyr)
Key Points to Note
Users should note that the toolkit interface for HTC Wildfire S is pretty similar to the one implemented with HTC Amaze 4G (in the screenshot above) earlier.
The software provided in this guide provides no warranties of any kind and takes no responsibility for any fault or damage caused to your device as a direct consequence of using this tool. Users should proceed at their own risk.
IBTimes UK advises its readers to backup important personal data on their smartphone before performing the procedures offered by the AIO toolkit. This will prevent the risk of losing data while running the functions within the toolkit, as it involves critical functions such as flashing recovery, unlocking bootloader and flashing the kernel ROM.
How to Install and Use AIO Toolkit for HTC Wildfire S
Download the toolkit. But, do not rename the folder.
Download Winrar from here and install it.
Extract the folder to your preferred location or to the desktop for quick access.
Launch the toolkit program.
You have successfully installed the AIO toolkit. Now, you can just perform the necessary actions to root your phone (step 1 to step 5) by just following the onscreen instructions. Once the phone is rooted, you can perform advanced functions such as flashing recovery and then flashing kernel in that order. The instructions are provided under the relevant sections on the toolkit home screen.
You must note that flashing kernel is optional and you need not do it if you are unfamiliar with its consequences. Just root your phone and flash the recovery that serves as backup. You can now install the third-party tweaks and apps such as trying the SIM unlock tools from third-party developers.
[Source: XDA Developers]