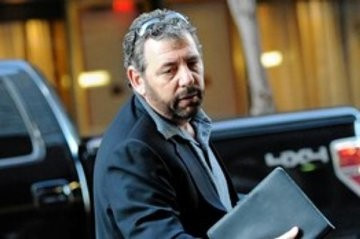 The founder of the independent investigative newspaper Chernovik, which has been critical of government corruption, was killed in the southern Russian republic of Dagestan on Thursday.
Gadzhimurat Kamalov was shot 14 times at late night, as he was leaving the offices of the newspaper in Makhachala, the capital of Dagestan province.
"Kamalov was exiting Chernovik's offices at around midnight local time when a masked gunman, apparently waiting outside the building, riddled him with bullets, then escaped the scene in a getaway Lada sedan, driven by an accomplice," a Chernovik staffer who witnessed the murder told the Committee to Protect Journalists (CPJ).
According to official investigations, the murder is linked to Kamalov's professional activities.
His newspaper reported extensively on issues such as the abuse and heavy handed tactics of the police against the Islamist insurgency, the International Press Institute reports.
The Committee to Protect Journalists (CPJ) said journalists at Chernovik had been "routinely persecuted for their work".
"The assassination of Gadzhimurat Kamalov is a massive loss for independent journalism in the North Caucasus, Russia's most dangerous place for reporters," the advocacy group's regional co-ordinator, Nina Ognianova, said in a statement.
The murder was committed at the end of the Memorial Day, when journalist organisations all over Russia gave tribute to colleagueas who died because of their work in the last 20 years.
"It is the fourth journalist killed in Russia since the beginning of 2011," said Galina Sidorova, chair of the Board of Founders, Foundation for Investigative Journalism - Foundation 19/29 and Committee member for the International Press Institute in Russia. "That confirms the disgraceful status of Russia as the territory dangerous for journalists.
The IPI death watch counts three journalists murdered in 2011: Yakhya Magomedov, Anatoly Bitkov and Kamalov.
"We urge the authorities both federal and Dagestani to pursue the investigation so that all those involved in this brutal crime - especially the masterminds - were caught, brought to justice and punished," she added.
Russian journalists who investigate corruption face serious risks, particularly in the provinces, where authorities are less likely to face scrutiny over attacks on journalists, Reuters reports.
The predominantly Muslim Dagestan is plagued by violence stemming from an Islamist insurgency rooted in the 1990s separatist wars in neighbouring Chechnya as well as conflicts over business and political power.
According to the IPI, 40 journalists have been killed in Russia since 2000. "Even the prominent killing of Russian journalist and IPI Press Freedom Hero Anna Politkovskaya has remained unpunished after all those charged with involvement in the murder were acquitted in a trial which ended in 2009," said Sidorova.
The IPI warned also of the "culture of impunity" in Russia. "This tragic case highlights just how grave the situation is for journalists working in Russia," Anthony Mills, IPI Press Freedom Manager. "We demand that the authorities investigate the tragic murder of Hadzhimurad Kamalov and bring the perpetrators to justice."