A model whose waist is only five inches bigger than the circumference of a CD has rekindled the row about body image and the negative effects of "unnatural" body shapes.
Ioana Spangenberg, a 30-year-old, 5ft 6in model from Romania, has 32in hips and a 20in waist.
Despite struggling to cope with her extreme figure as a teenager, she has managed to parlay her unconventional curves into a lucrative modelling career.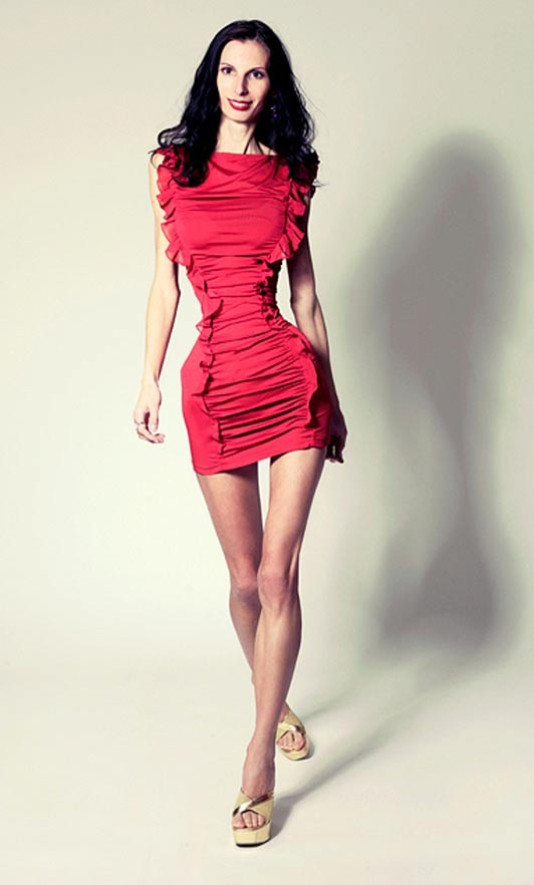 Unlike Ethel Granger, the woman who achieved a record-breaking 13in waist by constantly wearing corsets, Ioana says that hers is natural.
She was born a healthy 7lbs, but her body changed drastically when she hit her teenage years.
At the age of 13, friends were able to put their hands all the way around her then 15in waist.
Spangenberg denied claims that she suffered from eating disorders and insisted she has tried to put on weight by easing three square meals a day, including fatty foods such as crisps, pizza and kebabs.
She told the Sun: "In Romania it is better to be overweight, because that means you are from a wealthy family.
"So while my friends were going out and dating, I was sitting at home with Mars bars wishing I could fatten up."
She met the man who became her husband in 2006 and he encouraged her to pursue modelling.
"Jan was the first person who saw me as beautiful and encouraged me to celebrate my body," she says.
But not everyone is so supportive. Her image is a firm favourite on the website Skinnyfans but critics say she is glamorising an unachievable body image.
One disgusted viewer wrote: "I just visited the website... WOW! These people need serious help."
Another slammed her for promoting eating disorders in young girls.
"This isn't remotely attractive at all, and this is arguably a really dangerous message to send out,2 the writer said.
"Do you know how many women have eating disorders in America? Ugh... disgusting. That's just really gross."