InMobi, the largest independent mobile ad network, has just released its latest quarterly figures and they have thrown up some interesting revelations, including the fact that while Android remains the largest platform, iOS is quickly catching up.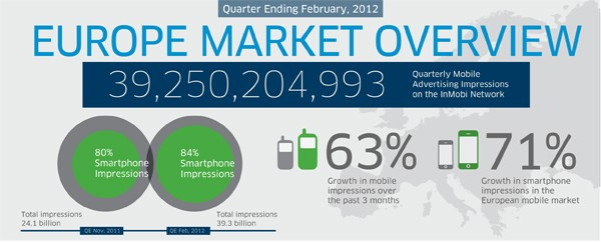 The report highlights the continued growth of mobile advertising in Europe, as the InMobi network grew by 63 percent in 90 days, or 15.2 billion monthly impressions. While Android reamins the leading operating system, with 34 percent of the ad impressions on the network, its share has fallen by one percent while Apple's has grown by five percent over the same period to 28 percent. RIM's BlackBerry OS remains in third position with a sizeable 17 percent of the market, leaving Windows Phone, Symbian and others to share 21 percent.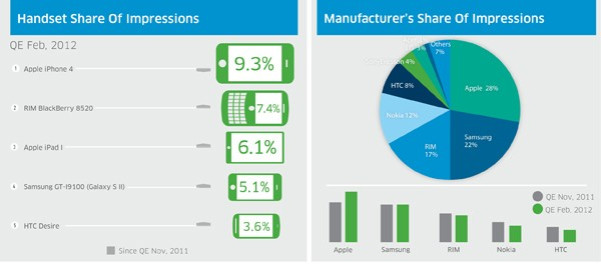 Another interesting statistic thrown up by the report is the fact that the BlackBerry 8520 is the number two phone in terms of ad impressions during the three months to the end of February with 7 percent. Unsurprisingly the iPhone 4 is top of the list with 9 percent, but considering the poor press RIM and the BlackBerry devices have been getting in the past 12 months, it is interesting to see an almost three-year-old phone so near the top of the list.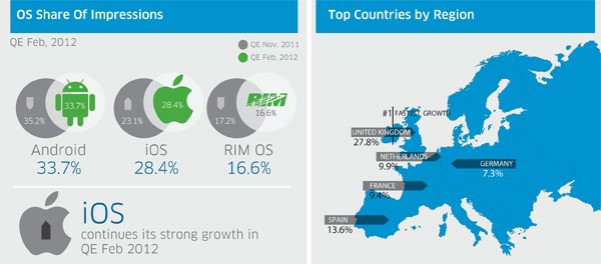 Highlighting the current dominance of Apple in both the smartphone and tablet markets is the appearance of the iPad in third place for overall impressions on a single device, showing just how pervasive the Apple tablet has become - with that set to go even higher with the launch of the new iPad tomorrow.