Apple's iOS 7 release is just around the corner, while the internet is abuzz with rumours of an impending untethered jailbreak for iOS 6.1.3. Recently, the UnthreadedJB team had claimed access to working iOS 6.1.3 untethered jailbreak following their inconsequential release of iOS 5.1 jailbreak for iPhone 4 CDMA. However, the legitimacy of the claims remains questionable with little proof to show the jailbreak in action.
All hope is not lost though, as iOS hacker winocm has confirmed access to untethered jailbreak for iOS 6.1.3 via binary in his latest Twitter update.
Here is what the hacker tweeted while claiming access to the highly-anticipated jailbreak: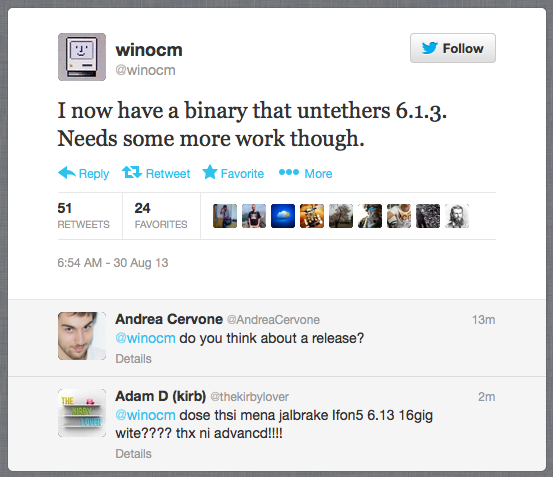 Though a tethered jailbreak is currently available for A4 devices (iPhone 4, iPhone 3GS and iPod touch 4G) running iOS 6.1.3, it requires reconnection to a computer every time the device is rebooted or powered on. Hence, an untethered solution for iOS 6.1.3 jailbreak gains precedence. Nevertheless, the hacker acknowledges that it needs some more work before the jailbreak is set into action.

Though speculation is rife that winocm's work could somehow be related to the ongoing efforts by UnthreadedJB, the progress is still uncertain and shrouded in mystery. The hacker has only confirmed that his code is tested with iOS 6.1.3 kernel on iPhone 4, but there is no word on other iOS devices.

Winocm also hints that his work does not support or aid jailbreak development for iOS 7. With Apple tightening its security checks against known exploits in newer devices (A5 and A5+) and the impending iOS 7 (with bug-fixes for known exploits) on horizon, the jailbreak community may have to wait a bit longer than expected for the next iOS jailbreak.
ALSO READ: iOS 6.1.3 Untethered Jailbreak: Jailbroken iPhone 4S Running iOS 6.1.3 with Cydia Revealed [VIDEO]
ALSO READ: iOS 6.1.4 Untethered Jailbreak: Jailbroken iPhone 5 Running iOS 6.1.4 with Cydia Revealed [PHOTOS]