Apple's new iPhone and iOS 7 debut event is widely expected on 10 September, while speculation is rife that the next-gen iPhone 5S and 5C smartphones will arrive around 20 September, in line with previous release patterns.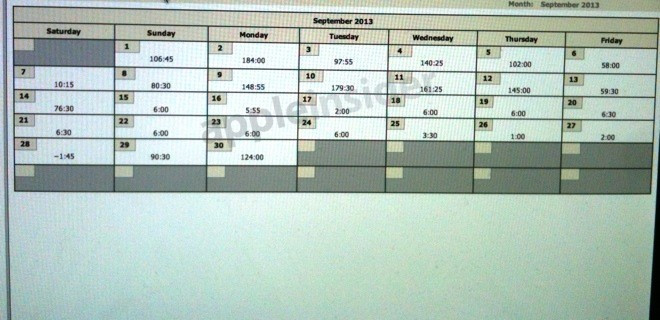 Besides, a recently leaked document via Apple Insider sheds more light on the new iPhone release date. The document pertaining to AppleCare employees' work schedule (in leaked calendar screenshot) clearly shows the time off available for taking leave in the month of September.
It also suggests that the AppleCare vacation time or work time off available from 15 to 28 September significantly drops off, and ends in negative balance on 28 September.
The leaked work schedule calendar has apparently been accessed via a virtual private network from an internal Apple employee domain, as Apple Insider points out critical portions of the picture are cropped out.
With a busy iPhone launch followed by iPhone and iOS 7 release schedule lined up for the mid-week of September, Apple seems to be taking no chances with its AppleCare support staff. If the past is any indication, expect iOS 7 public release around 18 September.
With just a week left for the highly-anticipated new iPhone launch, Apple is likely to send invitations for the event in the next couple of days. As the release window for iOS 7 Beta 7 has ended, the iOS 7 Gold Master (GM) release gains precedence and speculation is rife that it may release a few days ahead of the expected date of 10 September.
ALSO READ: iOS 6.1.3 Untethered Jailbreak: Jailbroken iPhone 4S Running iOS 6.1.3 with Cydia Revealed [VIDEO]