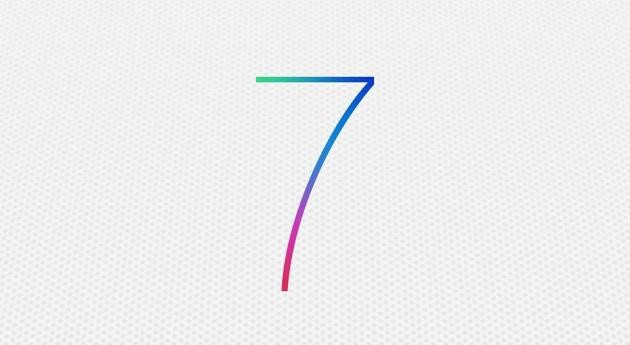 Apple released its latest iteration of mobile operating system iOS 7 Beta for developer testing, at the recently concluded annual Worldwide Developer Conference (WWDC) in San Francisco. According to Cult of Mac, the public release date for iOS 7 is expected in fall on 20 September, along with the probable release of next-gen iPhone. Nevertheless, tech-savvy iOS fans would be eager to get a glimpse of the features and interface ported to the new iOS platform.
Despite the mounting curiosity of iOS fans to try the new iOS firmware first-hand, the iOS 7 Beta in its nascent development stages poses a serious risk for everyday use as developers try to fix inherent bugs and broken features in several phases (spanning over 90 days) before the final public release. Unlike previous updates, iOS 7 is touted to feature a significant revamp to the looks of the user-interface (UI) and the core applications shipped with the device's stock firmware.
The iOS 7 Beta download is now exclusively available for Apple recognised developers and registered Apple ID users via iOS Dev Center. IBTimes UK has earlier posted a step-by-step guide to download and install iOS 7 Beta legally, and interested users can go ahead and give it a shot.
Nevertheless, casual users who are still undecided about taking the plunge into iOS 7 can take pride with the fact that they are running more stable iOS 6 versions. IBTimes UK brings you seven reasons to skip installing the new iOS 7 Beta, especially if you are not a developer.
Bugs
First and foremost reason to drop the idea of upgrading your iOS device to iOS 7 Beta is to avoid the inherent bugs and broken features that creep into the software like most test releases from Apple. The Beta releases are known to cause issues ranging from system crashes to app crashes and random reboot issues with the device.
Incompatible Apps and Broken or Partially Functional Features
iOS 7 users could inadvertently run into unstable or incompatible apps leading to random system or memory crashes, application crash-errors and broken or partially functional features. For instance, iOS 6 Beta users had reportedly complained of non-working Wi-Fi feature. Besides, certain features may work intermittently and then stop working altogether.
Non-Functional iPhone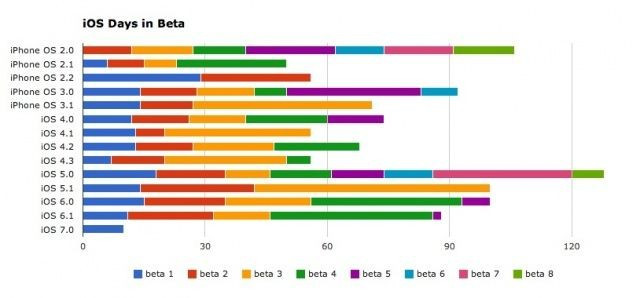 While the iOS 7 final public release is about 90 days away, the Beta versions often come with their own expiry date. As GottaBe Mobile reports, they become non-functional or get deactivated after a specified period before the next beta release pops out. If your device is running the expired beta software, it could automatically get locked up and prevent you from using your device until the next update is installed via computer. Downloading and restoring the iPhone to a newer iOS Beta update is both time-consuming and risky as the user may have to wait for weeks, before the new Beta update is released.
Downgrading Is a Major Challenge
Contrary to Apple's stance, it is quite possible to downgrade your iOS device running iOS 7 Beta to earlier stable versions of iOS 6, using our step-by-step guide posted here. However, this could turn out to be a tedious task, as it involves the tricky part of backup up your data manually; restore the device back to earlier iOS 6 version and finally install the third-party apps (along with your personal data) that were wiped out during the downgrade process.
In addition, if you had any third-party purchased apps installed on your device before the downgrade to iOS 6 or upgrade to iOS 7, you might have to re-download the apps once again at a premium or substitute it with a less-functional free app.
No Jailbreak Support
There is no working jailbreak yet for iOS 7 Beta. In addition, the jailbreak developers are unlikely to release any hacking tools until Apple releases its final or public release for iOS 7, as they are absolutely wary of Apple trying to fix vulnerabilities used by jailbreak tools in the upcoming public release.
Given the lack of jailbreak support for iOS 7, jailbreak users would be disappointed with losing their existing jailbreak tweaks and apps, if they proceed with the upgrade. Nevertheless, it is possible to downgrade from iOS 7 Beta to earlier iOS 6 versions, if you don't mind the hassle of reinstalling third-party jailbreak tweaks and apps.
No Support from Developers or Apple
Neither Apple nor developers provide any support for iOS 7 Beta pre-installation or post-installation issues, as the new iOS update is still under development and testing. Apple recognised developers run the new firmware on official test devices rather than installing them on their personal devices, as bug-fixes are rolled out in phases over a span of 90 days. Given the risk, it is not an ideal scenario to install Beta software on your primary device unless you own a spare device.
Not Fully Optimised
iOS 7 Beta is not yet fully optimised and involves a lengthy process of gathering debug information to find and fix bugs, broken features and performance issues. A spate of feature enhancements and optimisations added to the software through Beta phase often paves the way for the full and final public release.