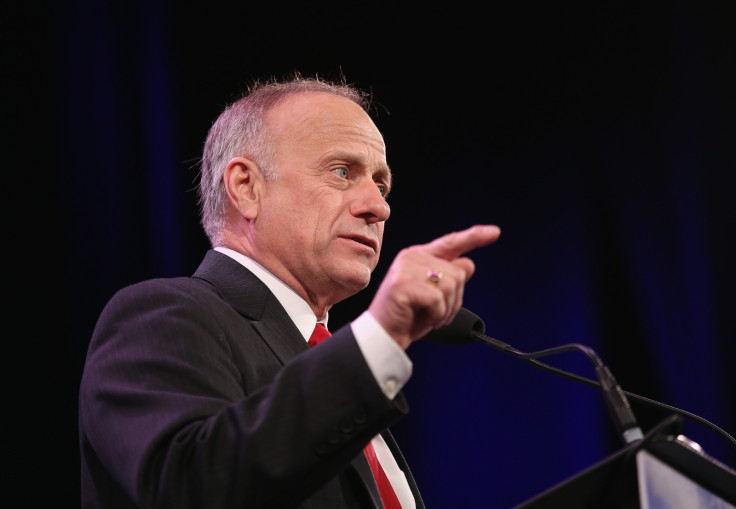 Congressman Steve King has come under fire for a tweet in support of Dutch far right politician Geert Wilders which critics have branded "an open endorsement of white nationalism".
King quoted a tweet about Turkish-led protests in Rotterdam that descended into riots which said Wilders was "right for over 10 years".
King wrote: "Wilders understands that culture and demographics are our destiny.
"We can't restore our civilization with somebody else's babies."
His comments drew an immediate and furious response.
David Cicilline, a Democratic congressman from Rhode Island, said in a tweet: "Steve King is my colleague. This tweet is an open endorsement of white nationalism. Shameful."
IBTimes UK reached out to King's office for comment but did not receive a reply by the time of publication.
King won some support for his remarks, with one message urging people to call his office to show support.
"Tell him we want MORE deportations and a broader Muslim ban," the message said.
Another supportive voice was David Duke, the former Imperial Wizard of the white supremacists Ku Klux Klan, who wrote: "GOD BLESS STEVE KING!!!"
It was not the first time King has been in the spotlight for his controversial remarks about race.
The representative for Iowa- a state described in a Washington Post analysis as "one of the most homogeneously white in the United States" - said on an MSNBC show in July 2016 that white people had contributed "more to civilisation" than "any other subgroup."
After Esquire's Charles Pierce said that a GOP convention was full of "unhappy, dissatisfied white people", King replied: "This whole 'white people' business does get a little tired.
"I would ask you to go back through history and figure out where are these contributions that have been made by these other categories of people you are talking about. Where did any other subgroup of people contribute more to civilization?"
As the latest controversy erupted, a Democrat representative for California, Ted Lieu, who is Asian-American, tweeted:
In 2014, after Arizona Governor Jan Brewer vetoed a so-called religious freedom bill that would have allowed businesses to deny service to people because of their sexual orientation, King described homosexuality as "self-professed behaviour" and suggested that it was something that a person could change.