Police in The Netherlands reportedly broke up protests outside the Turkish consulate in Rotterdam hours after a minister from Turkey was taken to the German border and expelled.
Police used water cannons in the early hours of Sunday (12 March) to disperse around 1,000 protesters who gathered at the consulate. Demonstrators threw rocks and bottles at the police, who retaliated and used batons on the protesters, according to Reuters.
Turkish Minister of Family and Social Policies Fatma Betul Sayan Kaya, who came to Rotterdam after travelling by road from Germany, was stopped by the Dutch police and refused entry into the consulate. After several hours of negotiations, she was taken back to the German border.
"The world must take a stance in the name of democracy against this fascist act! This behaviour against a female minister can never be accepted," she later tweeted. The mayor of Rotterdam confirmed that she was escorted back to the German border.
The development comes less than a day after Dutch officials denied Turkish Foreign Minister's plane to land in Rotterdam. The government made it clear that Mevlüt Çavuşoğlu was not welcome to campaign for Turkey's April referendum.
The Netherlands government said that it considers the ministers' visits undesirable and that "the Netherlands could not cooperate in the public political campaigning of Turkish ministers in the Netherlands".
It added that the visit had the potential to sow divisions among Turkish minorities, as the group consists of both pro and anti-Erdogan individuals.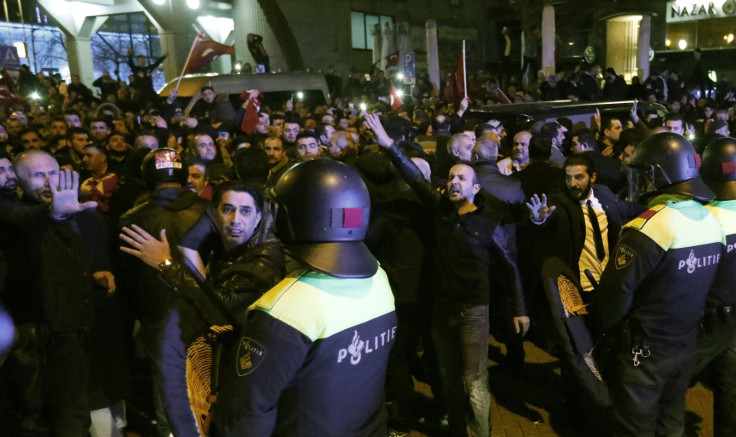 The Dutch embassy in Ankara and consulate in Istanbul were closed by Turkish authorities in retaliation. The foreign ministry of Turkey also said that the Netherlands Ambassador to the country did not have to return to Ankara "for sometime".
Earlier, Turkish President Recep Tayyip Erdogan reacted to the situation at a rally in Istanbul and said, "They are the vestiges of the Nazis, they are fascists. Ban our foreign minister from flying however much you like, but from now on let's see how your flights will land in Turkey."
Dutch Prime Minister Mark Rutte said that the criticism by Erdogan was "way out of line".
"I understand that they are angry but this is way out of line. I really think we made the right decision here," he said.