The US East Coast is bracing for a brutal blizzard on Tuesday (14 March) which could bring the season's biggest snowfall to the Northeast. The nor'easter, dubbed Winter Storm Stella, could bring up to 18 inches of snow from Washington DC to Maine.
The National Weather Service issued winter storm warnings for an area from New York City and Long Island to southern Connecticut, southern Rhode Island and parts of southeastern Massachusetts, including Boston, The Weather Channel reported.
New York City and southern New York state were also issued with a blizzard watch from late Monday through to Tuesday evening.
Winter storm warnings were also issued to parts of the mid-Atlantic and Northeast, including Philadelphia, Washington DC and Baltimore.
The biggest snowfall is expected in a band from New York City up to the Boston area.
According to the National Weather Service, New York City and southern New York state will receive between 12 to 18 inches of snow. Northeast winds of 20-30mph are expected with gusts of between 40 and 50mph.
Parts of Massachusetts will be hit by 10 to 18 inches of snow, with winds moving north at 10 to 20mph with gusts of up to 30mph.
"Heavy snowfall will result in dangerous travel conditions," warns the weather service. "Brisk conditions will result in areas of blowing and drifting snow."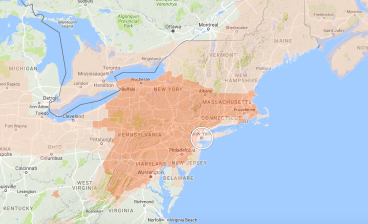 The Washington DC area is expected to get slightly less snow, with drifts of 6-10in. Temperatures will remain in the lower 30s Fahrenheit (1C), with northeast winds gusting up to 30mph.
When to expect the storm
The nor'easter is expected to begin in the mid-Atlantic region on Monday night, bringing 1-2in of snow an hour. Snow in New York City or southern New England may fall by late Monday night or early Tuesday morning, the Weather Channel reported.
Snowfall will become heavier during the daytime hours on Tuesday. Coastal areas may see blizzard or near-blizzard conditions.
New England will continue to see snow overnight into Wednesday (15 March) when the worst of the storm is expected to be over.