Apple's latest full-sized tablet, the iPad Air, has gone on sale globally, though supplies could be limited.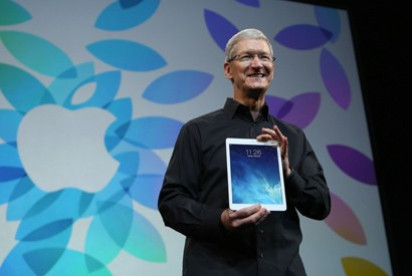 Apple's launched two new iPads last week and on Friday the first of those, the completely redesigned large screen iPad Air went on sale and can now be purchased through its online stores which opened for business at midnight UK time.
Some regions are already reporting that the iPad Air is sold out with Apple's online store in Hong Kong reporting all models being sold out within hours of going on sale.
Indeed iPad Air supplies could be more widely constrained according to Apple's CEO. In an earnings call with analysts on Monday Tim Cook said that not everyone who wanted to get their hands on an iPad Air would be able to.
Apple will also be selling the iPad Air through its retail stores which opened their doors at 8am UK time. While there is expected to be some queues for the new tablet, it will be nothing like the scenes seen just last month when thousands of people queued up for the iPhone 5s and iPhone 5c launches.
The iPad Air is available in two colours (space grey and silver) and in four storage configurations. Pricing is as follows:
Wi-Fi Only:
Wi-Fi + 4G
The new iPad Air is much thinner, narrower and lighter than the iPad 4 and features the powerful 64-bit A7 processor we first saw in the iPhone 5s. It is the first major physical redesign for the iPad in three years and comes at a time when Apple's share of the tablet market is at an all-time low - although it still remains the number one tablet brand on the market.
According to figures released by IDC this week, Apple's iPads held just under 30% of the global tablet market, which is still 10% more than its closest rival Samsung. However just 15 months ago Apple held a dominant 70% share of the market, with the drop reflecting increased pressure in the market from numerous Android tablets.
Apple also launch the iPad mini with Retina display last week but has yet to announce a release date for the 7.9in tablet beyond sometime in November. It has been widely reported that Apple is struggling to source sufficient Retina displays to meet expected demand.
Read More: iPad Air - what the reviews said