Analysts suggest the vast majority of new iPad sales over the weekend were for the iPad mini. Does this signal the end of the full-sized iPad?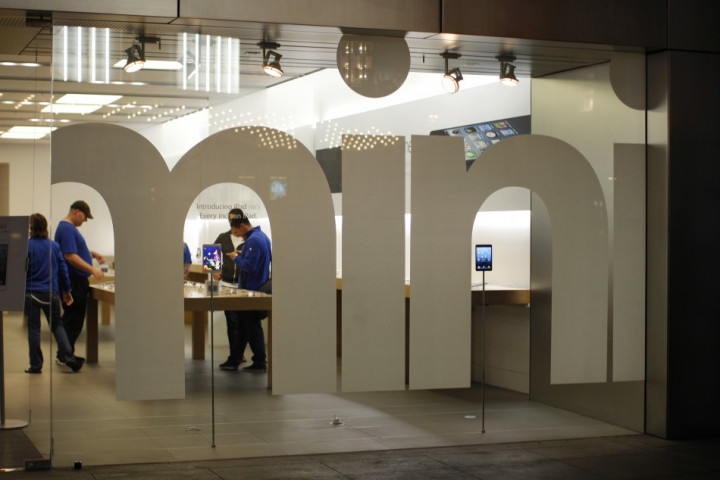 Apple sold three million iPads in just three days over last weekend, but is the company's unwillingness to break the figures down between its full-sized iPad and iPad mini a sign the smaller tablet could be cannibalising iPad sales?
Apple's product launches recently have become like film premieres. From queuing up overnight for tickets, to the red-carpet treatment as you enter the store, and Apple finally revealing its opening weekend 'box office' figures the following week.
Apple loves telling the world how many of its new products have been bought over their first weekend on sale. The iPhone 5 recently sold an incredible five million units on its opening weekend, while the iPad 3, with its Retina display sold three million units during its first three days on sale (though only 1.5 million of those were Wi-fi only models).
However, unlike the iPad 3 launch, this time round Apple launched two new iPads, the 7.9in iPad mini and the updated full-sized iPad 4, which replaces iPad 3.
Therefore, the three million sales figure is based on both, and may even include some iPad 2 sales - considering this tablet is available at a discount - though this figure is likely to be negligible.
Naturally, the question everyone is now asking is; What is the split between iPad mini sales and iPad 4 sales?
Estimate
As Apple is unlikely to ever reveal that split, it has been left to other sources to try and estimate how many iPad minis were sold in comparison to the full-sized iPad.
Renowned analyst at Piper Jaffray, Gene Munster is estimating the vast majority of iPads sold over the weekend, were of the mini variety.
He estimates between 2 and 2.5 million of the units sold were iPad minis, though this is based simply on surveys of those queuing up for the new iPads, with nine out of every 10 saying they were buying an iPad mini.
Add to this Apple's CEO Tim Cook stating the company is "practically sold out of iPad minis" and it would seem likely the iPad mini was the far more popular model this weekend.
While this is far from a scientific method of estimating the split, it would make sense that the majority of people buying new iPads last weekend were buying the all-new iPad mini, rather than the slightly updated fourth generation iPad.
It should be noted however that analysts have been known to be wrong. Indeed Munster himself predicted mini sales of just 1-1.5 million during the opening weekend just last week.
But does this mean that the iPad mini is going to cannabilise full-sized iPad sales?
Confidence
It is impossible to say with any confidence. While there will be some people who will decide to buy the iPad mini over the full-sized version, we believe there will be a lot more who will chose to buy the iPad mini over the Google Nexus 7, the Kindle Fire HD or the Samsung Galaxy Tab 2 7.0.
The iPad mini is a completely different proposition to the iPad. It is a device designed for consuming media, from books and movies, to web pages and music. While the iPad can also offer this, it is promoted as much more, with Apple advertising it as a content creation device which can be used for business and education, as well as entertainment.
While Munster has changed his prediction about the opening weekend sales split between the iPad mini and the iPad, he is sticking with his prediction of overall iPad sales for the December quarter.
"Specifically, units may increase driven by iPad mini, but have a slight cannibalisation effect, which, when factoring in the lower [average selling price], would result in revenue unchanged," Munster said, predicting $12.6 billion (£7.9bn) revenue from iPad sales alone in the three months to the end of December.
"We are currently modeling for 25 million total iPads including 20 million full-sized iPads and five million minis in December [quarter]."
Consumers
JP Morgan analyst, Mark Moskowitz, believes a lot of consumers looking to buy a new PC, could now look at the iPad mini as an alternative:
"Given the global economic uncertainty, we think price-sensitive users could gravitate toward an iPad mini instead of making a PC purchase. Our view is that the incremental use case is more differentiated for first-time tablet users. In tough times, unique or 'feel good' purchases can be more amenable to end users, which gives the edge to the tablet versus the PC, in our view."
Moskowitz also believes that the iPad mini could see Apple's tablet section become it main growth area, taking over from the hugely popular iPhone:
"In our view, barring entry of another new category, Apple's iPad Mini could set the stage for the iPad product set to carry the growth baton in the future, particularly as iPhone growth momentum moderates."
Only time will tell if the iPad mini takes a significant chunk of sales from the iPad, but considering that Apple has tablets now available at three price points, and in two different sizes, surely it can only mean that Apple's tablet market share will begin to rise again having fallen to its lowest point (50 percent according to latest IDC figures) since the launch of the original iPad back in 2010.