Dozens of images of what is claimed to the chassis of Apple's iPad 5 have been published online.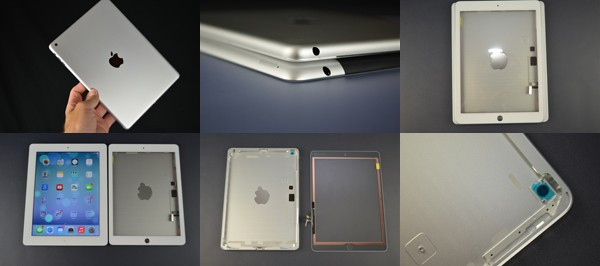 The images back up what was already suspected - that the fifth generation iPad would closelty follow the design language of the iPad mini which was launched last year. This means the iPad 5 will be a narrower than the current generation iPad thanks to narrower bezels.
The images have been published by Sonny Dickinson, an Australian who earlier this year was the first to leak images of the iPhone 5C's plastic casing - which this week proved to be very accurate.
Dickinson, who makes some of his money from repairing iOS devices, also sells parts from as-yet unannounced Apple products through supply chain contacts in China.
Dickinson says he has not personally seen the iPad 5 chassis but the high-quality images come from some unnamed source.
These images match exactly a video posted online last week which shows an identical case being compared to the current generation iPad 4, showing it to be significantly slimmer (185mm versus 170mm).
Following its iPhone event this week where the company unveiled the iPhone 5S and iPhone 5C, Apple is expected to hold another event before the end of the year - probably next month - where it will launch the updated iPad 5, along with the iPad mini 2 - which also leaked on video last week.
The new images don't give us any more information about the iPad 5 such as screen resolution, processor or camera.
However, following the announcement this week, we can expect to see some of the innovations featured in the iPhone 5S coming to the updated iPads.
For example the fingerprint sensor announced this week will likely transfer to the iPAd 5 and iPad mini 2 as will Apple's 64-bit A7 chip, giving both tablets much more power.
Read more: iPhone 5S Features - What they mean for iPad 5 and iPad mini 2