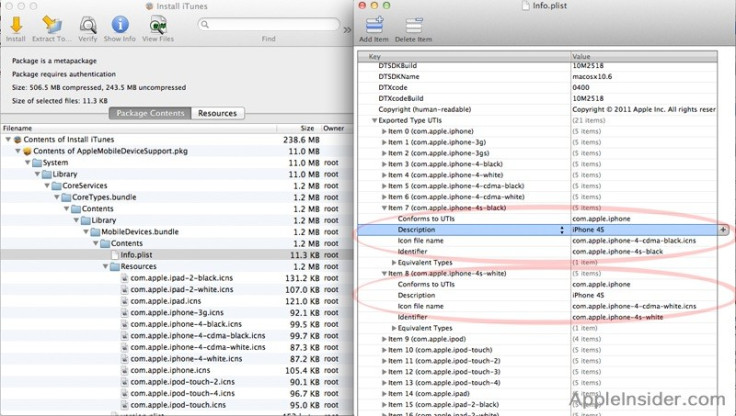 Apple has all but confirmed that the new iPhone will be called iPhone 4S, with a product of that name being mentioned in the latest iTunes beta.
In a screenshot posted by 9to5Mac, items seven and eight in the beta, which was released to developers on Friday, refer to products called "iPhone 4S Black" and "iPhone 4S White."
This information all but confirms that Apple will be announcing an iPhone 4S at its media event in Cupertino, Calf., on Tuesday, although the presence of an iPhone 5 at the event still remains unknown.
Apple has been tipped in recent weeks to be announcing two new models, the iPhone 5 and a cheaper, less powerful iPhone 4S, which would be aimed at customers who can't justify the usually high price of a "full-fat" iPhone.
Also included in the iTunes beta is an icon of the iPhone 4S, which is identical to the current iPhone 4 in appearance, conforming with rumours that the new iPhone will look almost identical to the current model.
MacRumors reports that the iPhone 4S was first mentioned in iTunes Beta 6.1, which was released a little over a month ago.
The iPhone 4 has been sold alongside the less powered and slightly cheaper iPhone 3GS since the 4 was introduced, so it wouldn't be a big surprise to see two new models announced tomorrow.
The media event, due to be presented by CEO Tim Cook, is taking place at 10 a.m. Pacific (6 p.m. GMT) where the new iPhone - or iPhones - will be announced, along with iOS 5 and iCloud.