The iPhone 4S has sold out in the UK, after selling more than hour million units worldwide since going on sale last Friday, causing Apple to launch an online pre-order system.
British customers looking to purchase a SIM-free iPhone 4S from Apple must now head to a page on the company's website where, from 9pm Tuesday evening, any available iPhone can be pre-ordered for collection in the morning.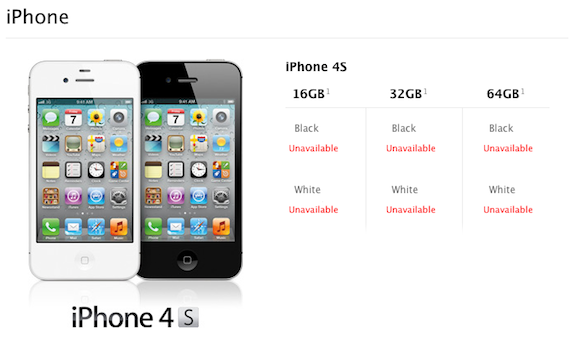 The site is currently showing no iPhone 4S stock at all in any of the 33 Apple Stores in the UK, but punters are encouraged to check again at 9pm when, presumably, stock information will be updated.
Meanwhile, The Register is reporting that even Apple Store staff are unable to buy the new 4S, and the flagship Covent Garden store has not had a delivery of new phones since Friday; customers are encouraged to ring the store early to check for availability.
The Register adds that: "Staff at Covent Garden confirmed that they would be more likely to hold back an iPhone 4S for a customer who wanted it on a contract than for someone who wanted a standard SIM-free model."
The iPhone 4S was released yesterday, and IBTimes has a hands-on review here, as well as an in-depth review of the new iOS 5 operating system here.