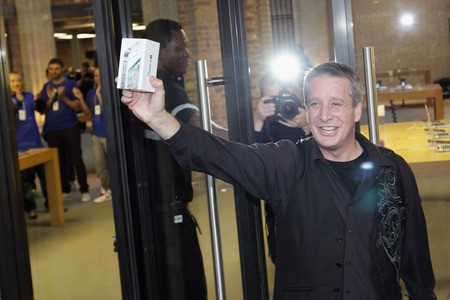 After lining up for days - and in some cases, weeks - Apple fans will be able to get their hands on the new iPhone 4S Friday.
Apple's new iPhone 4S is available from today in several countries including the UK and U.S. after its launch earlier this month. The phone is the same size as the iPhone 4, but will offer faster and better performance, an improved camera, extended battery life, and Siri 'intelligent assistant' voice control. The new phone uses Apple's new iOS 5 mobile operating system and offers its recently launched iCloud service * Apple co-founder Steve Jobs died on 5 October
Although the phone has disappointed some by having an identical form to the outgoing iPhone 4, diehard fans have queued up in droves to get their hands on the latest Apple product.
The iPhone 4S showcases Apple's new Siri voice-controlled personal assistant. Using technology more at home in sci-fi films, Siri can listen to commands and act upon them with incredible accuracy and efficiency.
Siri can be tasked with a vast number of chores, from sending text messages and emails, to looking up the local weather and finding a nearby restaurant. It also apparently understands informal and colloquial sentences.
Although the 4S looks identical to its iPhone 4 predecessor, on the inside Apple assures us that it's all new. From the 1GHz dual-core A5 processor - as found in the iPad 2 - to the updated 8 megapixel camera and 'intelligent' antenna, the iPhone 4S promises to be a powerful upgrade.
The A5 processor means the iPhone 4S is up to twice as powerful as the iPhone 4, and can produce up to seven times faster graphics, encouraging developers to create even more graphically intensive games and applications.
The improved 8 megapixel camera is set to rival the budget point-and-shoot market, with its face detection, ability to take HDR photos, and what Apple is calling and "advanced hybrid infrared filter". Video recording has been imporved with the 4S, which is now capable of shooting high definition 1080p video, and has video stabilization.
iPhone 4S comes with iOS 5 pre-installed, bringing iMessage, wireless sync and iCloud. You can read our hands-on review of iOS 5 here.
The iPhone 4S is available on all of the major UK network provides for contracts ranging from 12 to 24 months, and the handset is also available SIM-free from Apple. Check out our buyers' guide for more information.