Both the iPhone 5 and 4S outsold the Samsung Galaxy S3 in the last three months of 2012, giving Apple first and second place in global smartphone sales.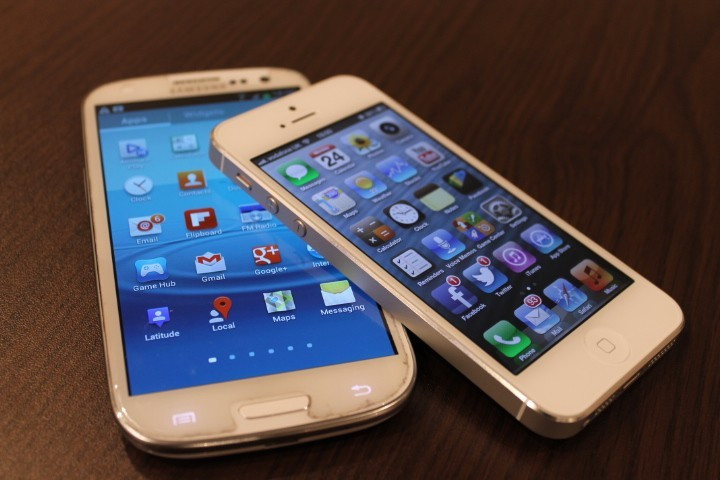 According to data released by Strategy Analytics, Apple shipped 27.4 million iPhone 5s and 17.4 million of the iPhone 4S in the three months to the end of December, both beating Samsung's tally of 15.4 million Galaxy S3s.
Shipments of the Android phone fell from 18 million in the previous quarter, a figure which gave Samsung the number one spot, but Apple's launch of the iPhone 5 and subsequent price cut to the year-old 4S helped to push Samsung down to third.
The analytics company credits the iPhone 5 for its "rich touchscreen, extensive distribution and generous operator subsidies," and said that sales performance was impressive, given the device's "premium pricing".
The iPhone 4S was cut to £449 SIM-free, can be had for free on many monthly contracts, and as a result the smartphone shipped 1.2 million units more in the fourth quarter than it did in the third, a remarkable achievement for a phone which is over a year old.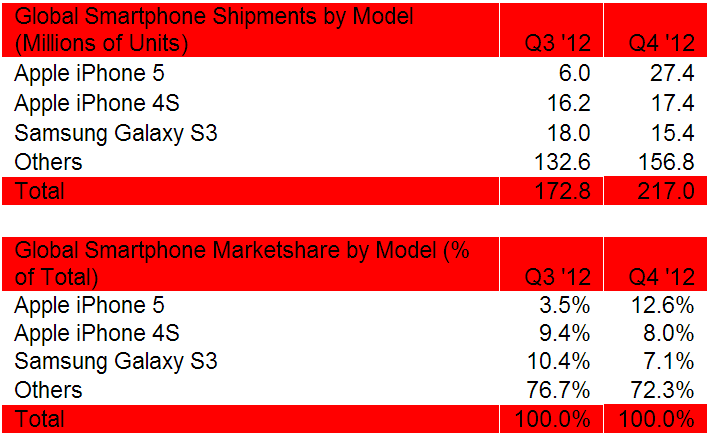 As for market share, the iPhone 5 captured 12.6 percent of the global smartphone market in its first full quarter on sale, while the 4S took eight percent and the Galaxy S3 was responsible for 7.1 percent.
Between them, the iPhone 5 and iPhone 4S accounted for one in five of all smartphones shipped worldwide in Q4 of 2012; total smartphone shipments for the quarter reached 217 million, up from 172.8 million in the previous three months.
Strategy Analytics said: "Samsung's Galaxy S3 has long proven wildly popular with consumers and operators across North America, Europe and Asia. However, global demand for the Galaxy S3 appears to have peaked and Samsung will surely be keen to introduce its rumoured Galaxy S4 upgrade in the coming weeks to fight back against Apple's popular iPhone range."
Samsung is widely expected to announce a replacement to the Galaxy S3 soon, with recent rumours suggesting a press event will take place on 14 March, although the company is yet to confirm this.
Rumoured specs for the Galaxy S4 include a 5in Full HD display, an eight-core processor with 2GB of RAM, and a 13-megapixel camera.