Images claiming to be of the Apple iPhone 5 have been posted online by a case manufacturer who managed to sneak a device out of the Foxconn factory where they are being made.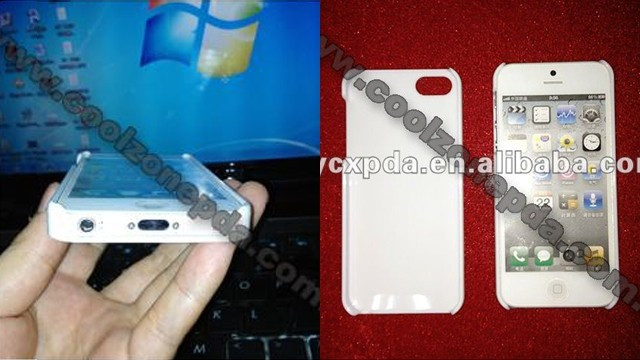 The photos leaked by cell phone case vendor Cool Zone PDA appear to show an elongated version of the iPhone 4S, which is sitting inside one of the company's cases.
The bottom of the phone carries the rumoured 19-pin connector that replaces the existing 30-pin version - the first time this interface has been changed since the launch of the original iPod.
The headphone jack in these images has moved to the bottom of the iPhone, in the same spot as it is also located on the iPod touch, leading to the need for that smaller dock connector.
Questions remain as to whether this is the real device but it would not be the first time a genuine phone has been seen in the wild before an official launch.
An Apple employee famously left a handset in a beer house in 12 May, 2010 and weeks later a Vietnamese site posted video and photos of an iPhone 4 handset. The Vietnamese model was thought to have been taken from a Foxconn factory.
All of that happened around a month and a half before the June 2010 release of the iPhone 4 and we are starting to enter the same sort of territory if the iPhone 5 is to launch in September 2012.
Apple refuses to comment on unannounced products and all that is known for certain is that it will release iOS 6 in the autumn, which is expected to be featured on the new iPhone.
Sales of the iPhone 4S have slowed in recent months as consumers await the launch of the next Apple iPhone.
South Korean company Samsung sold almost twice as many smartphones as Apple in the last quarter.