Apple has decided that sometimes less is more when it comes to smartphones. At least that's one takeaway from the announcement of the iPhone SE. The device will be the smallest smartphone in the iPhone range with a 4 inch Retina screen - however Apple maintains that while it may closely resemble the 5S in looks, when based on specifications and power it easily out-performs its predecessor. So, should you splash out for the handset? IBTimes UK looks at five things you need to know about the device:
It's got the power
Apple has said the device will be the "most powerful" 4-inch phone on the market and will have the same internal chip technology that is found in the iPhone 6S. Indeed, the new model has a 64-bit A9 chip, an M9 motion coprocessor and an NFC chip with support for Apple Pay. Apple claims the updated technology will give the SE three times the power of the 5S while also touting an always-on 'Hey Siri' feature that can now be launched hands free.
But Apple has been forced to make sacrifices
It may appear that Apple is branding the SE as cutting edge but the firm has undoubtedly been forced to make a number of sacrifices in production – including a downgrade of the front-facing camera to 1.2MP and the exclusion of the 3D Touch feature that gives 6S users the ability to press the screen at varying pressure to perform different tasks.

However, the camera will still be impressive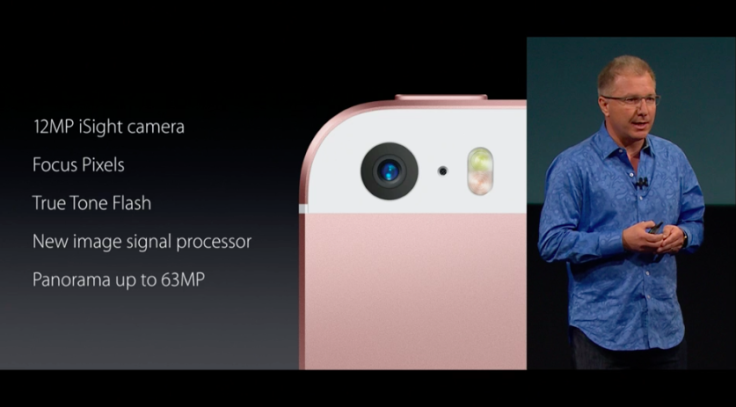 The iPhone SE comes with a not-too-shabby 12-mexapixel rear camera, complete with a dual flash, 4K Ultra HD video recording and the ability to capture sharp panoramic images or up to 63 megapixels.
It will be the cheapest iPhone on the market
As Apple slowly backs away from previous budget models – and removes the 5S from its marketplace altogether - the SE will take the mantle as the cheapest device in Apple's smartphone range. Apple is opening orders for the iPhone SE from today (21 March), with prices starting at £359 for the 16GB model and £439 for the 64GB version.
Faster

WiFi



Browsing the internet, downloading applications and streaming movies will be quicker than any 4in iPhone before thanks to 802.11ac Wi‑Fi and 4G LTE with speeds significantly faster than the 5S. Apple claims that more LTE bands make the iPhone SE better prepared for users on the move while also touting increased speeds when connected via Bluetooth to devices like the Apple Watch or external speakers.
What do you think? Let us know on Twitter: @IBTimesUKTech

The handset will ship on 24 March and will be available in-store from 31 March. Meanwhile, Apple is promising availability in 110 countries by the end of May 2016.