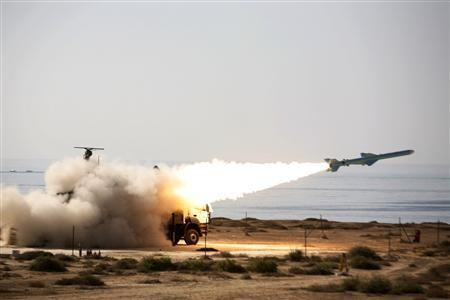 The Iranian army has test-fired three mysterious new missiles. Officials were tight-lipped about specifications, but said the weapons were a new type of land-to-land missiles.
"Three types of missiles developed by the army and the defence industries have been successfully test-fired in the ground force's recent wargames," General Kioumars Heydari, the Lieutenant Commander of Iran's ground forces, told the quasi-official Fars News Agency.
He said special carriers are likely to be unveiled during National Army Day celebrations on 18 April.
In an indirect remark aimed at Israel and the US, he said "all options are on the table". He added: "Just like the leader has said we also have our own defence options on the table, and if the enemy is stupid enough to use aggression, they will get a hard and devastating response."
Iran test-fired two missiles code-named Naze'at-10 and Fajr-5 during military manoeuvres in mid-March. While Naze'at-10 was a medium-range ballistic missile, Fajr-5 was long-range artillery rocket.
Iran insists that its military exercises and the latest weapons are designed only to defend its territory.
"I am sure that the military power of the Iranian nation is not for attacking of domination any other country, rather it is meant to be a deterrent factor. The military power of the Iranian nation is a demonstration of the faith and maturity of the Iranian nation which can defend itself at the lowest costs," Iranian President Mahmoud Ahmadinejad has said.
Meanwhile, the Iranian ambassador to France has said that any attack on Iran will spark off a third world war.
"A potential Israeli attack on Iranian territories to hit a blow at its scientific and nuclear facilities is sheer madness and its consequences are catastrophic and uncontrollable. Iran will not sit silent under such aggression. Such a move can trigger a series of violence which will possibly lead to world war III," Ali Ahani said in an interview with the French Centre for Intelligence Studies.
Iran has been locking horns with the US and Israel over its controversial nuclear programme.