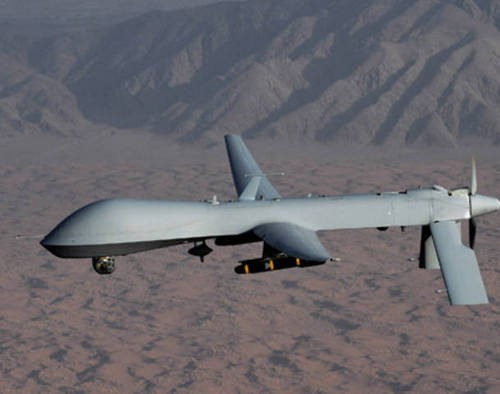 Iranian aircraft recently made an unsuccessful attempt to shoot down a US drone in international airspace, the Pentagon has said.
The unmanned aircraft belonging to the US was on a regular patrol over the Gulf when two Iranian warplanes stormed in for a chase and resorted to "unprecedented" firing.
If Tehran's aircraft were successful in bringing down the drone, it could have escalated tensions between Iran and the US. Relations between Washington and Tehran have been extremely fragile in recent times over Iran's nuclear ambitions.
"Our aircraft was never in Iranian airspace. It was always flying in international airspace. The United States has communicated to the Iranians that we will continue to conduct surveillance flights over international waters over the Arabian Gulf, consistent with longstanding practice and our commitment to the security of the region," said Pentagon press secretary George Little.
Two Iranian fighter jets confronted an American drone at about 04:50 EST (08:50 GMT) on 1 November while the unmanned aircraft was on regular surveillance at about 16 nautical miles from the Iranian coast, according to the Pentagon.
Tehran's SU-25 "Frogfoot" chased the drone although it flew far off Tehran's airspace and opened "multiple rounds" of fire. The drone reportedly escaped the attack and was safely directed back to its base.
The incident has also prompted a warning from the US through diplomatic channels that Washington's military assets will be defended at any cost. The Pentagon reiterated that Washington will continue its surveillance over the Arabian Gulf in international waters.
"Our working assumption is that they fired to take it down. You'll have to ask the Iranians why they engaged in this action," added Little when asked whether the jets were firing warning shots.
Some critics point out that the Iranian aircraft could have taken down the unmanned aircraft if they had wanted to.
Tehran is yet to respond officially to the Pentagon allegations. Tehran had previously captured a US drone which they claimed invaded its territory.