Iraq: Hero Policeman Embraces Suicide Bomber Moments Before Detonation to Shield Shiite Pilgrims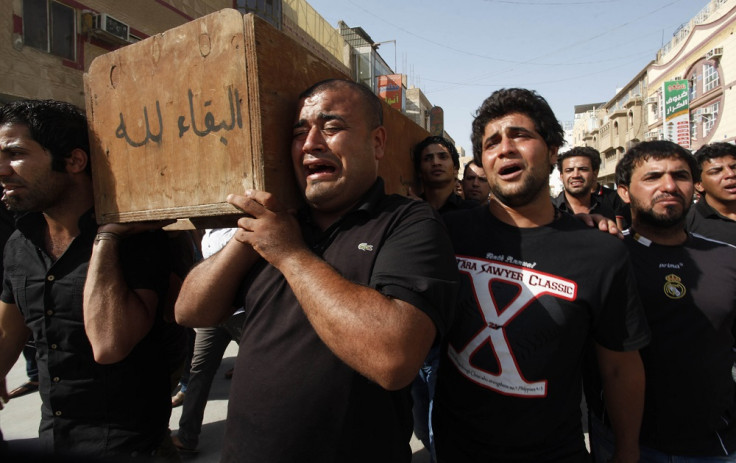 An Iraqi policeman sacrificed his life to shield Shiite pilgrims by embracing a suicide bomber moments before he detonated his explosive vest.
The unnamed suicide bomber killed five and wounded 10 when he detonated the explosive in Khales, northeast Baghdad, according to medical officials.
However, Ayyub Khalaf, 34, saved many more people from death by jumping on the Sunni militant.
"Ayyub was martyred while defending pilgrims, and his name will be an eternal symbol because he saved the lives of dozens of innocents," his friend Saad said.
"We will take revenge on the Al-Qaida terrorist organisation," he added.
His cousin Hassan Jassem praised his heroic actions.
"My cousin Ayyub Khalaf stood in the face of terrorism as he saved...pilgrims from death," Jassem said. "We are proud of him."
Jaafar Khamis, one of Khalaf's colleagues in the police, lauded the bravery of his friend.
"Ayyub was my friend since the school days. He was a brave man who loved his country and sacrificed himself for it," he said.
"I am proud of him, because he faced terrorism and was able to silence the voice of infidelity and injustice by sacrificing his body and soul."
This incident comes as violence in Iraq reaches its highest level for years with more than 6,550 killed in sectarian violence so far in 2013.
This week saw two bombings kill at least eight Shiite pilgrims and two car bombings that left 24 dead.
Every year, hundreds of thousands of Shiites make the pilgrimage to the holy city of Karbala in the 40 days following the anniversary of the death of Prophet Mohammed's grandson.
© Copyright IBTimes 2023. All rights reserved.