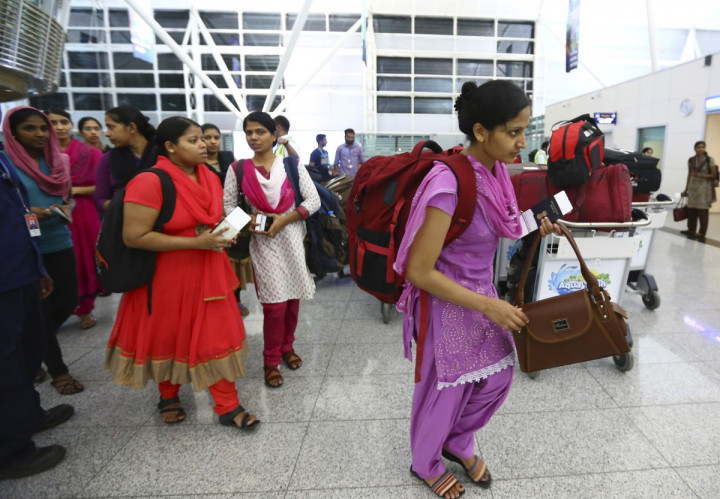 A special aircraft carrying 46 Indian nurses who were abducted by Sunni extremists of the Islamic State of Iraq and the Levant (Isis) in Iraq has landed in the southern city of Kochi.
The plane earlier touched down in Mumbai, India's business capital for catering and refuelling.
Apart from the nurses, the flight which originated from the Kurdistan capital of Erbil, was also carrying 130 Indian evacuees.
In an emotional reunion, the jubilant ladies embraced their relatives and friends at the airport as their month-long ordeal came to an end.
They were welcomed by Kerala Chief Minister Oomen Chandy. The nurses thanked the federal and state governments for their efforts.
"The Centre has acted in complete understanding of the deep anxieties of Kerala. The Ministry of External Affairs and the Indian Embassy in Iraq have made sincere efforts in securing the release of the nurses. Our main focus was to see that the nurses come back home safely," Chandy said.
Officials from the state government of Kerala and India's external affairs ministry were among those on board the flight.
The nurses, all hailing from Kerala, who were abducted in the strife-torn Tikrit, reached Erbil on 4 July.
The release of the Indian nurses is one of the rare positive signs in the intensifying conflict in Iraq where the Sunni Islamist militants are pressing ahead against the Shiite-dominated administration in Baghdad.
Ten Bangladeshi nurses were also abducted along with the Indians.
The abduction of several Indian workers has been posing a major foreign policy challenge for the recently-elected administration led by Prime Minister Narendra Modi.
About 39 Indian workers are still in the custody of the militants and efforts are on to get them released. The Indian government has been scrambling its law enforcement agencies and diplomats in order to rescue them.
A crisis management committee, chaired by India's foreign minister Sushma Swaraj, and comprising officials of the Intelligence Bureau, the Research and Analysis Wing and the external affairs ministry is engaged in trying to get the abducted people released.
The release of the nurses is seen as a diplomatic coup for the Modi administration.
Swaraj is believed to have held a series of back-channel talks with several countries including Syria, Jordan and Turkey in order to facilitate the release of the nurses.
As many as 10,000 Indian workers were present in Iraq before the start of the recent turmoil.