A gun-toting Iraqi housewife has boasted of beheading Islamic State (Isis) militants before boiling their heads in cooking pots.
Grandmother Wahida Mohamed Al-Jumaily says her brutal treatment of the extremists is to avenge the deaths of her two husbands, three brothers and her father who were killed by Isis.
The 39-year-old, who carries a Beretta 9-mm pistol in a holster under her arm, says that her actions have led to personal threats from IS chief Abu Bakr al-Baghdadi. So respected in battle after 12 years of skirmishes with IS, and their predecessors, she now commands 70 soldiers in Shirqat, northern Iraq, it is claimed.
Shirqat, around 50 miles (80km) south of Mosul in Salahuddin province, has recently been liberated from the terrorists after took over the town in 2014. Her battles with the extremists have left her with shrapnel in her head and legs and broken ribs, she says.
And the brash mother-of-two daughters, better known as Um Hanadi, posts her exploits to her Facebook page – where she shows off severed heads and stands amongst dead militants. She told CNN: "I fought them. I beheaded them. I cooked their heads, I burned their bodies.
"This is all documented. You can see it on my Facebook page."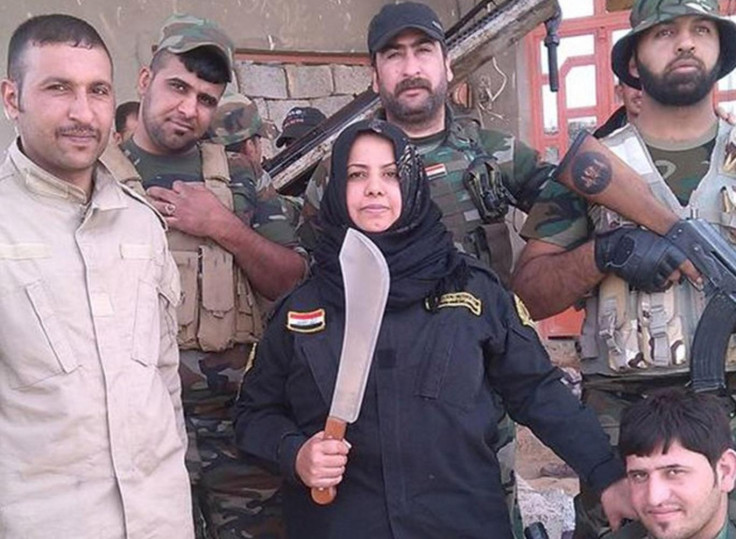 She says she is so hated by Isis that their fighters have planted car bombs outside her home at least eight times (in 2006, 2009, 2010, three in 2013 and one in 2014) and they have even killed her livestock. Al-Jumaily believes that Isis warlord al-Baghdad desperately wants to kill her: "I'm at the top of their most wanted list - even more than the Prime Minister".
She added: "Six times they tried to assassinate me. I have shrapnel in my head and legs, and my ribs were broken. But all that didn't stop me from fighting."
Al-Jumaily, who describes herself as a "rabat manzal" (a housewife), began working with the government to fight terror groups in 2004. She has fought terrorists in many guises as Isis began life as al-Qaeda in Mesopotamia, the Mujahideen Shura Council, al-Qaeda in Iraq (AQI) and Islamic State of Iraq (ISI) before their current incarnation.