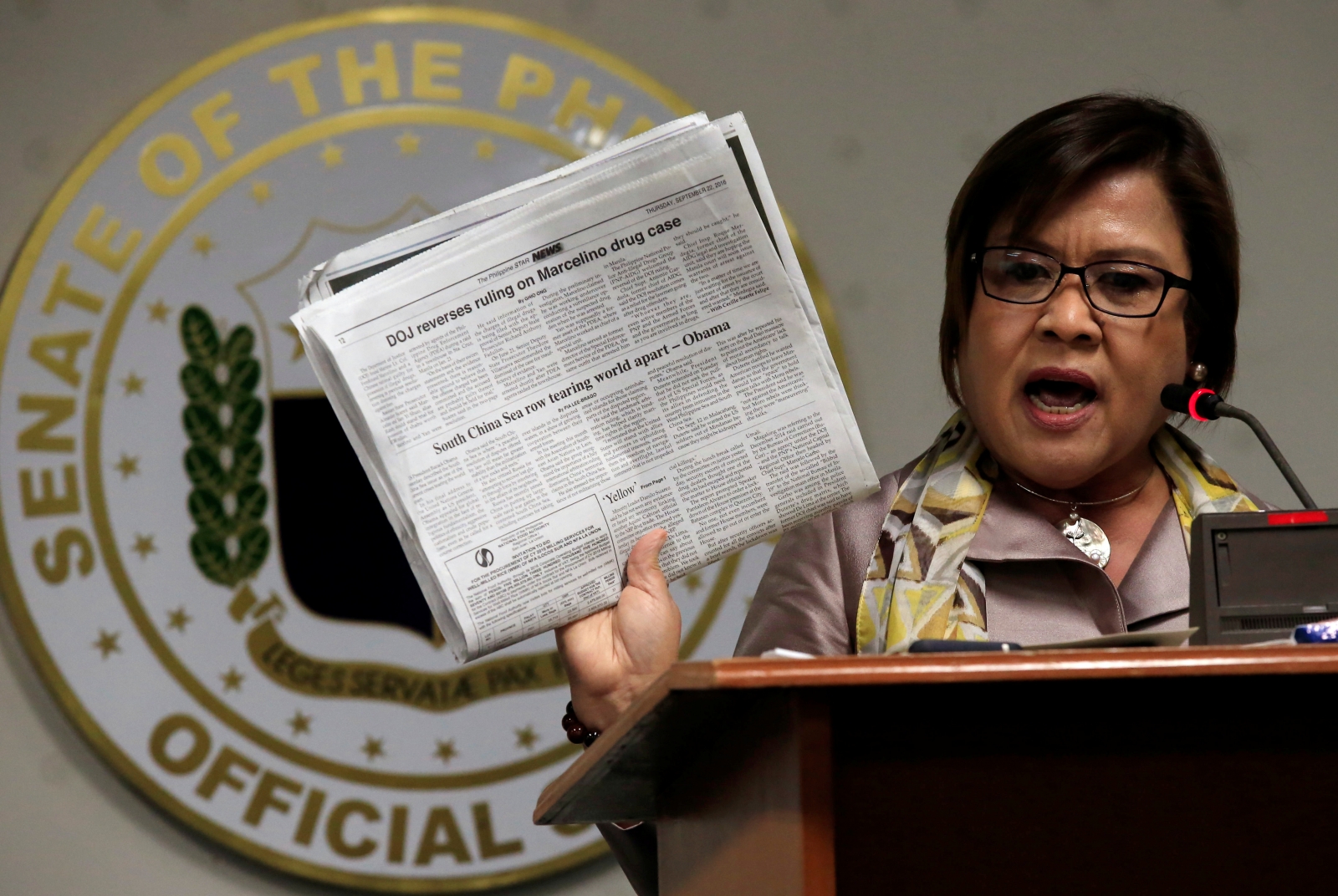 Liberal Party senators in the Philippines are rallying around their embattled colleague and former justice secretary, Leila de Lima, to voice their opposition to a plan to show an alleged sex tape of her in a committee hearing.
De Lima is accused of receiving millions in payoffs from drug syndicates in prison to fund her senatorial campaign. Her former driver, bodyguard and alleged lover, Ronnie Dayan, supposedly collected drug money for her at the New Bilibid Prison.
Dayan is yet to come out and dismiss the claims despite Justice Secretary Vitaliano Aguirre II's offer of immunity and safeguarding under the witness protection programme earlier. Aguirre claims to be in possession of three sex videos of De Lima, who has endured a public fallout with President Rodrigo Duterte.
In a bid to link de Lima to the alleged proliferation of drugs inside the national penitentiary, House Speaker Pantaleon Alvarez said he sees no problem with playing the footage in front of a televised inquiry conducting the probe. "Well for me, it's okay so that people will know if it's really true or not," he said on Wednesday (28 September). "Let's show it if needed as it would be the link as to whether the two have a personal relationship."
The proposal was decried by horrified politicians. "We vehemently oppose the plan of the House of Representatives to show the alleged videos as disrespectful, deplorable, and illegal," a joint statement by Senate President Pro-Tempore Franklin Drilon and Senators Francis "Kiko" Pangilinan and Paolo Benigno "Bam" Aquino IV said.
"Regardless of the authenticity of the alleged videos, viewing it is disrespectful to a sitting senator, to her person, and to the office she holds, and is violative of the law," they added.
Senator Grace Poe also questioned the legality of playing the alleged sex video as it would "violate the very law that Congress passed". An ally of De Lima, Risa Hontiveros described it as "misogynistic".
In a text message, Rappler cited Hontiveros as saying: "It is terrible. I don't see how the showing of fake sex videos will promote the interest of truth and justice. This is clearly a case of misogyny."
An exasperated De Lima hit out at the plan in a press conference. "Enough! Just arrest me! That's what you really want! Just put me in jail!" she said.