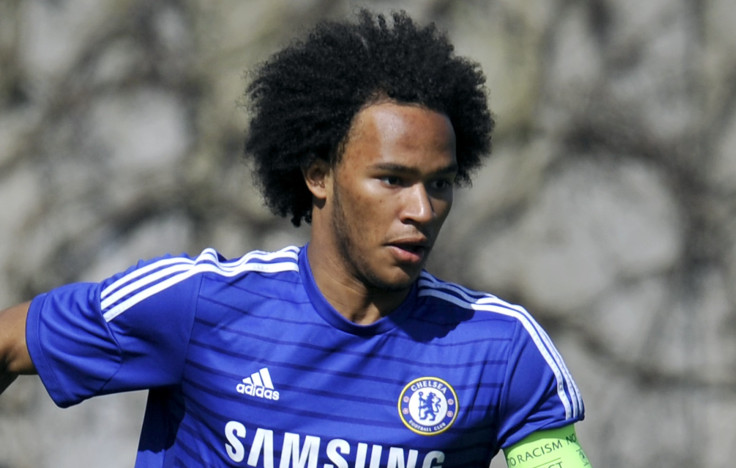 Chelsea manager Jose Mourinho will continue to award debuts to the club's academy stars after confirming that Isaiah Brown will make his first appearance in the penultimate Premier League game against West Bromwich Albion.
Brown will become the second player to emerge from the club's successful youth ranks to make their debut for the club in as many weeks after Ruben Loftus-Cheek made his full league debut with a 60-minute cameo in the 1-1 draw with Liverpool.
Nathan Ake, who has spent a month on loan at Reading, will also feature a year on from his last Premier League appearance against Cardiff City at the end of the 2013/14 season, while Loftus-Cheek will be handed a second appearance in as many weeks at The Hawthorns.
"In the last game I will play the players with the most minutes in the Premier League, against West Brom, especially because they are safe and nobody is waiting for a result, he [Ruben] will play and probably Nathan Ake, who deserves to play," Mourinho explained.
"Izzy Brown came from West Brom, so it will be special for him to play at his house, they all deserve it."
Loftus-Cheek's start against Liverpool was a rare opportunity for a home-grown player to feature in the Chelsea first team during Mourinho's spell in West London, a trend the Portuguese boss wants to continue going into the third year of his second spell at the club.
On the 19-year-old's debut, Mourinho said: "It was a fantastic experience for him to feel the intensity and speed in which he has to compete, so I'm happy. He's going to be a Chelsea player, no doubt, and we have other kids I believe can do it as well.
"The intensity of the game was different to what he is used to. In the second half he was chasing more, so I'd prefer to give him a good hour rather than a difficult last 20-25 minutes."
And Mourinho has handed a boost to those young players hopeful of a regular place in the Chelsea first team by claiming he is not expecting many changes to his squad in the summer, after a flurry of comings and goings during the last two transfer windows.
"The first thing I want is to keep my players and I think we will do that," he said. "Last year I was keen to see some people leave and for the club to raise funds.
"This season I'm so happy with what my team gave me that what's fundamental is to keep my players and try to get the best out of them."