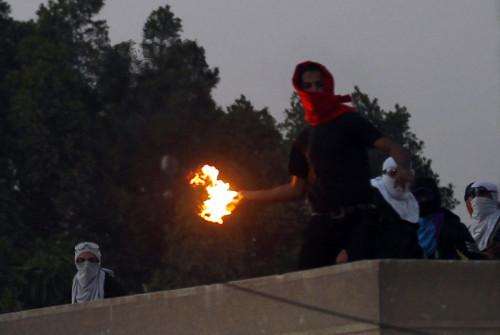 One protester has been killed and scores more arrested as police and supporters of the Muslim Brotherhood clashed outside Al-Azhar University in Cairo, state media have reported.
Demonstrators attempted to stop students entering the university, a famed seat of Sunni learning, to take their exams.
Police attempted to disperse the crowd using teargas, and the demonstrators set fire to tyres to counteract the gas and hurled rocks at officers.
One student was shot dead and five injured, the state-owned Al Ahram newspaper quoted a health ministry official as saying.
Shaimaa Mounir, a student activist, told Reuters that the dead student was Khaled El-Haddad, a supporter of the Muslim Brotherhood, whose leader Mohamed Morsi was ousted in a military coup in July.
Police said that "student terrorists" also set fire to business and agricultural faculty buildings. They arrested 101 protesters, and claimed that they were found carrying makeshift weapons.
Since the Morsi government was deposed, thousands of Brotherhood supporters have been arrested and put on trial.
Last week, the organisation was declared a terrorist group following the suicide bombing of a police headquarters in the Nile Delta that killed 16.
Human Rights Watch has described the government's move as "politically driven", designed to the Brotherhood as a political force.
The government claims the Brotherhood was behind the Nile Delta attack, but it strongly denied the allegation. Responsibility has been claimed by a radical faction based in the Sinai peninsula.
On Friday, three people died as police fought Brotherhood supporters in Cairo, southern Minya, and the Nile Delta: 250 people were arrested for being members of the Brotherhood.
In January, a referendum will be held on the country's constitution, which was amended along Islamist lines by the Morsi government.
This is expected to pave the way for new elections.