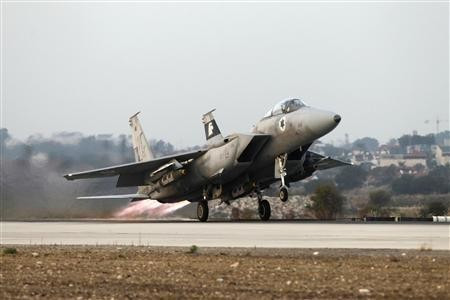 Israel has launched air strikes against Syria targeting a shipment of "game changing" missiles which it says were bound for the Lebanese militia group Hezbollah.
Israeli officials in Washington confirmed its air force carried out the operation early on Friday, after US satellite images showed Israeli jets entering Lebanese airspace to mount the attacks.
Speaking on condition of anonymity, the officials said the targets were not chemical weapons, but sophisticated ground-to-ground missiles.
The officials did not disclose the location of the strikes, but said the planes made no incursion into Syrian airspace.
US officials were first to comment on the strikes, after Israel initially refused to confirm they took place.
"Israel bombed Syria tonight," US senator Lindsey Graham, a Republican who serves on the Senate Armed Services Committee, told a policy forum discussion at a fundraising dinner in South Carolina.
His remarks followed Lebanese media reports that Israeli warplanes had violated the country's airspace in a series of low altitude incursions on Thursday night. The strike appeared to have hit a warehouse, US officials said.
Lebanese President Michel Suleiman denounced the raids, accusing Israel of breaking international law.
There was no immediate reaction from Syrian officials, and no mention of the attack on Syrian state TV.
Bashar Ja'afari, the Syrian ambassador to the United Nations, told Reuters: "I'm not aware of any attack right now."
Israel's "standoff bombs" enable it to hit targets in Syria from its own soil, or from neighbouring Lebanon.
Lebanese authorities said pairs of Israeli airplanes had entered Lebanese airspace on three occasions overnight between Thursday and Friday.
A Lebanese security source said he believed Israeli incursions were aimed at monitoring possible cross-border arms shipments to Hezbollah in Lebanon.
"We believe that it is linked to Israel's concerns over the transfer of weapons, particularly chemical weapons, from Syria to its allies Lebanon," said the official.
Qassim Saadedine, a commander of the anti-regime Free Syrian Army, said: "Our information indicates there was an Israeli strike on a convoy that was transferring missiles to Hezbollah. We have still not confirmed the location."
An Israeli embassy spokesman in Washington declined to comment on the air strikes.
"What we can say is that Israel is determined to prevent the transfer of chemical weapons or other game-changing weaponry by the Syrian regime to terrorists, especially to Hezbollah in Lebanon," the spokesman said.
Israel's security cabinet gave its approval for the raid in a secret meeting on Thursday night, according to a source close to the talks.
Earlier this week, Israel's Defence Minister Moshe Yaalon admitted Israel had launched an airstrike inside Syria in January, saying the target was a shipment of advanced SA-17 anti-aircraft missiles bound for Hezbollah.
Israeli President Binyamin Netanyahu has repeatedly warned his forces would take action if chemical weapons or other arms were to reach Hezbollah.
Hezbollah leader Sheikh Hassan Nasrallah said earlier this week that his group would assist the regime of Syrian President Bashar al Assad if called on for help.
In separate developments on Saturday, hundreds of Syrians fled coastal areas after government forces were accused of carrying out massacres in the town of Baniyas, and the nearby village of al-Bayda.
Activists said 77 people were killed in Baniyas, one day after 72 died in al-Bayda in a campaign of sectarian cleansing by troops loyal to the Assad regime. Footage of mutilated and burnt bodies, said to be from Baniyas, were posted online.
The Syrian government said it had fought back "terrorist groups" and restored peace and security to the area.