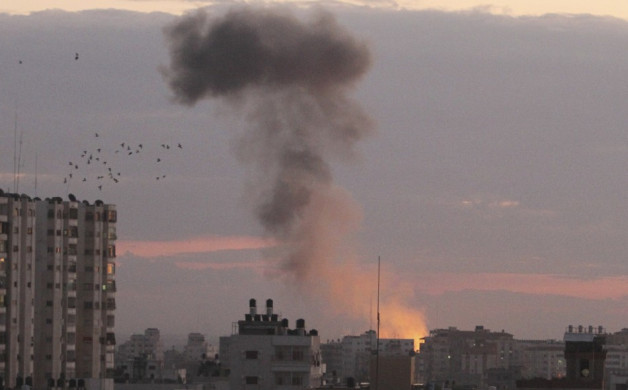 A group of world leaders including US President Barack Obama and UN Secretary-General Ban Ki-moon have urged Israel to show restraint in its campaign against Hamas, following Prime Minister Benjamin Netanyahu's declaration that the Jewish state is ready to expand its operations against the Palestinian militants.
"If it becomes necessary, we are prepared to expand the operation. We will not tolerate a situation in which Israeli citizens are threatened by rocket fire," said Netanyahu in a television address.
Defence Minister Ehud Barak added that "we are at the beginning of the event, and not the end," following a series of airstrikes in Gaza which killed Hamas leader Ahmed al Jaabari.
According to the White House, Obama telephoned Netanyahu to request a calm approach, urging the Israeli leader to avoid civilian casualties in Palestinian territory while acknowledging Israel's right to self-defence against rocket attacks from the Gaza Strip.
Ban also spoke to the Israeli prime minister and Egyptian President Mohammed Morsi on the escalating violence in Gaza and southern Israel.
At least seven people, including two young children, were killed in yesterday's Israeli airstrikes, which targeted suspected missile facilities and centres of weapons storage.
Hamas said the airstrikes have opened the "gates of hell" for Israel. Hundreds of Gaza residents chanted "retaliation" and "we want you to hit Tel Aviv tonight" outside the hospital where the body of Jaabari was taken, according to a BBC report.
"The occupation committed a dangerous crime and crossed all the red lines, which is considered a declaration of war," said Hamas spokesman Fawzi Barhum.
Though the UN Security Council called for an emergency meeting to discuss the developments in Gaza, it did not come out with any statement or further action on the issue.
At the meeting, UN observer Riyad Mansour said: "The international community must act to bring an end to Israel's illegal policies and practices against the Palestinian people."
"War crimes are being perpetrated by Israel against the Palestinian people," he told the council, according to the Associated Press.
Israeli Ambassador Ron Prosor said the strikes were in response to two days of rocket fire into Israel from Hamas-controlled territory.
"Hamas has turned Gaza into a dump of ammunition and weapons supplies brought in from Iran," said Prosor.