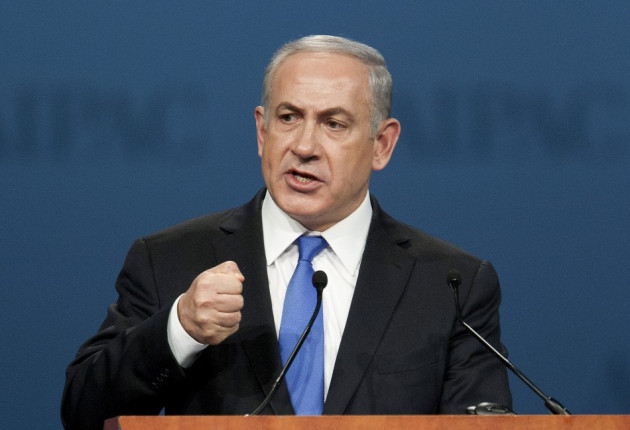 Israel's Prime Minister Benjamin Netanyahu has warned the United States over Iran's "nuclear march" and said the Jewish state will defend itself with a pre-emptive attack if necessary.
Speaking at the annual conference of the pro-Israel lobby group, the American Israel Public Affairs Committee (Aipac), Netanyahu drew a controversial comparison with the US's cautious attitude towards bombing the Nazi concentration camp Auschwitz in 1944.
"2012 is not 1944," Netanyahu said, before shouting "Never again," as he waved a copy of a letter of the time by the US Department of War, which shows the Allies' hesitation in attacking the camp from fear of German retaliation.
He acknowledged US efforts to tighten sanctions against the Islamic republic, but warned that Iran's "nuclear march" was continuing unchecked.
"We've waited for diplomacy to work. We've waited for sanctions to work. None of us can afford to wait much longer. As prime minister of Israel, I will never let my people live under the shadow of annihilation," he said.
Recalling Obama's speech to the conference, Netanyahu repeated that the Jewish state is a sovereign land, which has the right to protect itself from foreign attacks.
"I believe that's why you appreciate, Mr President, that Israel must reserve the right to defend itself," Netanyahu said. "That's why my supreme responsibility as prime minister of Israel is to ensure that Israel remains the master of its fate."
But differences between the two leaders remain untouched. Netanyahu said nothing about sanctions or talks with Iran, nor did he offer any diplomatic support to Obama.
The US president is putting all his effort into preventing Israel from launching an attack on Iran's nuclear facilities. Sources inside the White House said talks left the two sides closer than a week ago.
Netanyahu is expected to meet US Secretary of State Hillary Clinton.