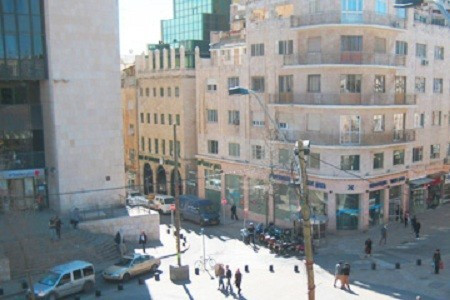 Israeli police have arrested seven Israeli teenagers on suspicion of an attempted lynching of Palestinian youths in West Jerusalem's Zion Square.
Jamal Julani, 17, who was originally believed to be 20, was beaten unconscious and taken to hospital after he was lynched in full view of passersby in the busy square. Jamal of the Ras al-Amud neighbourhood in Jerusalem, was admitted to intensive care at Hadassah University Hospital and is in serious condition.
Four minors aged between 13 and 15, including two girls, were among those taken into custody. A 15-year-old suspect told reporters outside the court: "For my part he can die, he's an Arab.
"If it was up to me I'd have murdered him," he continued. "He cursed my mother."
Sgt Shmuel Shenhav said: "The victim lost consciousness and was thought to be dead until an emergency paramedic crew arrived and resuscitated him. He was anesthetised and on a respirator in the hospital for days. This was an extremely severe crime. Only a miracle saved him from death."
The brother of a 13-year-old suspect said four Palestinians had provoked the beating by making inappropriate comments at Jewish girls.
"Why should an Arab make passes at my sister?" he told Haaretz. "They shouldn't be here, it's our area. For what other reason would they come here if not to make passes at Jewish girls?"
"There were four of us," one of the victim's cousins, Mohammed Mujahad, said. "Suddenly maybe 50 Jews came toward us shouting, 'Arabs Arabs.' I don't understand what they said. They weren't calling us. They were just generally shouting."
Israeli education minister Gideon Sa'ar said: "This is a very serious event, both in terms of violence and racism. The high number of teenagers that participated in the incident adds to that concern.
"The education system must and will put out an educational and ethical statement on the subject, which will be sharp and clear."
Attacks by settlers on Palestinians and their property, mosques and farmland increased by 144 percent over the past two years, jumping from 200 attacks in 2009 to over 400 in 2011.